Sir John Dudley, 1st Duke of Northumberland

    Quarterly of 16 (12)
1st or a lion rampant vert lower a crescent gu in
 dexter chief much smaller
2nd or two lions passant az in pale
3rd barry of 6 arg and az three torteaux in chief
 a label entire dovetailed arg smaller
4th or a maunch gu
5th barry arg and az four martlets gu in pale in dexter
 half larger to the dexter four martlets gu in pale
 in sinister half larger to the sinister a martlet
 gu in base and in middle chief smaller
6th gu a bordure or invected a lion rampant or lower
 a crescent or in dexter chief much smaller
7th gu a fess or between six crosses crosslet or
8th checky or and az a chevron arg charged with 5
 ermine spots sa palewise very much larger larger slightly
 higher
9th gu a chevron arg abased 4 crosses crosslet arg
 in chief a cross crosslet arg in dexter chief much
 smaller very much lower a cross crosslet arg in sinister
 chief much smaller very much lower
2 crosses crosslet arg in base smaller much lower
 a cross crosslet arg in base smaller higher a cross
 crosslet arg in base smaller very much lower
10th gu a lion passant arg crowned or  very much lower
11th or a chevron sa enhanced a base sa
12th arg a chevron gu abased
13th gu a cross crosslet arg in middle chief much
 smaller very much higher
14th gu
15th or  a chevron sa enhanced
16th arg

Suggested by an anonymous user, who adds:
The quarterings 9 to 16 are all two quarterings combined into one. (As DrawShield does not yet allow three rows of four quarterings each)
If you would like to modify this blazon and see the effects click here to copy it into the "create" page.
If you have some helpful feedback or would like to comment on this shield design please click on the button below. Your comment will be moderated and added to this page.
Please Help!
The server has running costs, I have coffee needs.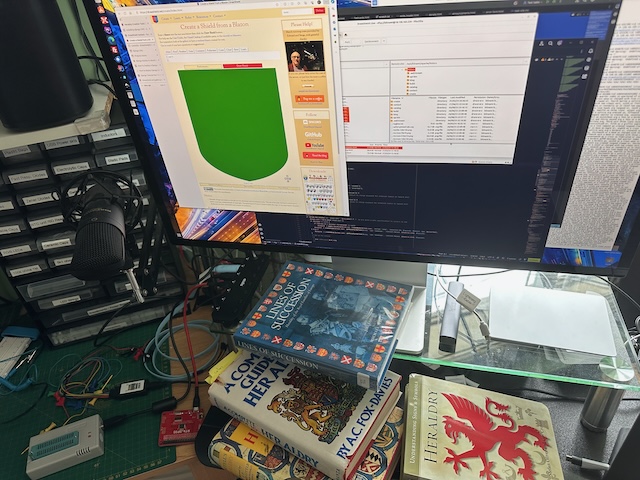 Please donate to make sure we don't run out of either!
Buy me a coffee
Test Me