Montemart, Duke of

   Quarterly 
1st Gules a crescent vair smaller smaller smaller smaller
impaled with azure three fleurs de lys or a bend couped gules 
2nd Gules nine mascles or
impaled with barry argent and azure three chevrons gules
3rd argent a pile throughout tierced in pale wavy barry argent and carnation, azure and argent a chief argent an antique crown or in middle chief higher
impaled with tierced in pale gules maily or, gules and gules maily or, a fillet cross gules maily or a tressure gules maily or a roundel vert in fess point smaller smaller smaller higher
4th Gules a palet vair
impaled with ermine;;
over all quarterings an escutcheon barry wavy of six argent and gules larger



Suggested by an anonymous user, who adds:
The 5th quartering (3rd quarter, dexter side) is supposed to be a biscione (for Milan) and the 6th quartering (3rd quarter, sinister side) should be the "Chains of Navarre" in orle, cross and saltire.
If you would like to modify this blazon and see the effects click here to copy it into the "create" page.
If you have some helpful feedback or would like to comment on this shield design please click on the button below. Your comment will be moderated and added to this page.
Please Help!
The server has running costs, I have coffee needs.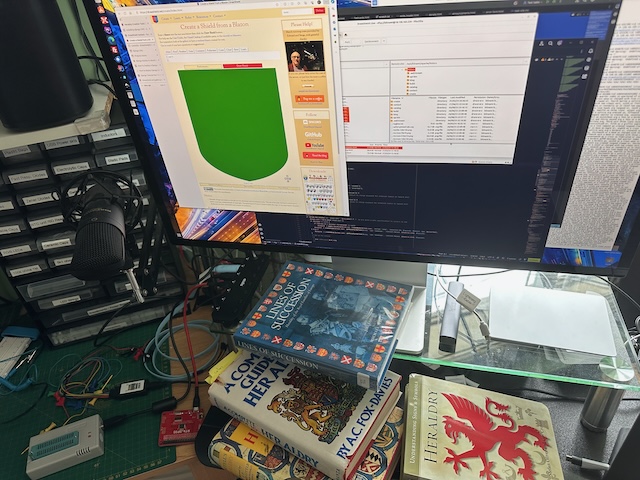 Please donate to make sure we don't run out of either!
Buy me a coffee
Test Me