On October 2 we had the start of....
Posted to: The Google+ Heraldry Community
Posted by: Marc-André Laverdière
Created on: October 3 2016 at 15:18
On October 2 we had the start of Rosh Hashanah, the Jewish New Year.

Canada has integrated many Jewish elements in its heraldry, so let's have a look. In this example, we see a Maccabean helmet, a Torah scroll, etc.

Arms : Azure between two menorot a representation of the Holy Ark Or charged on the tympanum with a flame issuant from a vessel Gules the ark ensigned by a closed crown topped with a magen David also Or;

Crest: Between two eagle wings displayed Argent highlighted Sable rising from a circlet of roses Gules seeded Or alternating with lily flowers Argent and maple leaves Gules veined Or an open Torah scroll each roll tipped with a magen David Or;

Motto: In Hebrew from Genesis 28:17, meaning "This is none other than the House of God and this the Gate of Heaven".

http://reg.gg.ca/heraldry/pub-reg/project-pic.asp?lang=e&ProjectID=559&ProjectElementID=1963
Congregation Shaar Hashomayim [Civil Institution]
Please Help!
I work on Drawshield.net in return for coffee, but I need actual $$$ for the server...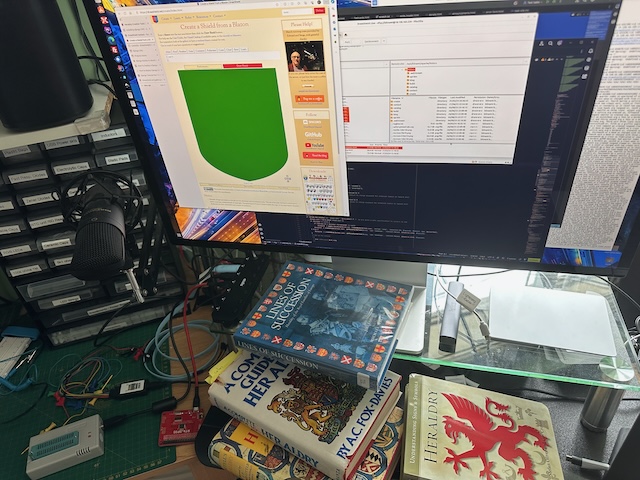 Please donate to make sure we don't run out of either!
Test Me