Earls of Warwick and the County of Warwickshire

    gules a bear rampant argent smaller to the sinister
 to the sinister to the sinister a ragged staff argent
 smaller to the dexter to the dexter to the dexter
 to the dexter

Notes
The rugged staff and rampant bear have been used by the Earls of Warwick as a personal emblem (as apposed to their personal coat of arms) since the 14th century. The two devices are today used on the flag of Warwickshire as well as the coat of arms of the town of Warwick. The bear and staff can be easily seen today in areas that were once apart of the historical county of Warwickshire, including the cities of Coventry and Birmingham.
The two devices were used together by Beauchamp family, who were Earls of Warwick from the 13th to the 15th Century. Thomas Beauchamp, 11th Earl of Warwick, was known to use a rampant bear as an emblem, with his son, also Thomas, being the first known Earl to use both the bear and staff. The Earls of Warwick from this point were known to use privy seals bearing the two devices. However, it appears that the use of both devices together was in fact limited - Richard Neville (the Kingmaker), 16th Earl of Warwick, seems to have favoured using only the ragged staff as his retainers during the Wars of the Roses were recorded using coats with the ragged staff only embroiled onto them.
Robert Dudley, 1st Earl of Leicester, who was a favourite of Elizabeth I and owned large estates around the English West Midlands, including Kenilworth Castle, began using both devices together, with many places bearing the device dating from this period. Inventories of Kenilworth mention the devices being used on furnishings. His suit of armour, which is displayed in the Royal Armouries, features ragged staffs.
The bear and staff was associated with the Earls of Warwick and various landowners in the area solely. However, through time the bear and staff have became associated with the county itself, with both devices being used together on badges, crests and emblems of many local public institutions, sports clubs and historical military formations originating from the historical area of Warwickshire.
If you would like to modify this blazon and see the effects click here to copy it into the "create" page.
If you have some helpful feedback or would like to comment on this shield design please click on the button below. Your comment will be moderated and added to this page.
Please Help!
DrawShield is a Free service supported by its users.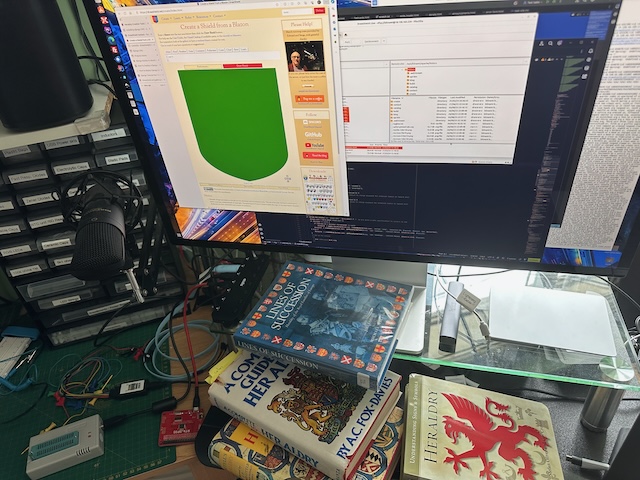 If you can, please help cover the cost of the server, or just buy me a coffee to say thanks! All donations are greatly appreciated.
Buy me a coffee
Test Me