I stumbled today on the coat of....
Posted to: The Google+ Heraldry Community
Posted by: Marc-André Laverdière
Created on: August 4 2016 at 14:48
I stumbled today on the coat of arms of the 'Rothschild family' - though we know t hat there is no such thing as a family coat of arms.
Anyways, the Rothschild Archive has some details aobout it:
https://www.rothschildarchive.org/family/the_rothschild_name_and_arms/the_rothschild_coat_of_arms
The Austrians granted a Barony to the 5 Rothschild brothers and the arms are described as follows. Anybody feels like writing a proper blazon for them?
Also - isn't those helms the kind normally reserved for the royal families?
Arms: A pointed gold and blue quartered shield with a red central shield, in the middle of which is a right-facing shield; above right on a golden shield is a simple black eagle with open jaws, red outstretched tongue, wings spread, taken from the Arms; above left and below right in the two blue fields comes out of each edge of the shield a bare arm, the hands of which hold five white-feathered arrows with the points downwards; below left on a golden field is an upright natural Lion with open jaws, red outstretched tongue.
Crest: The shield is surmounted by a baronial crown, wound round with small pearls and decorated with five large pearls, topped with three crowns which are surrounded with, on the right, black and gold and on the left blue and silver covering, on top of noble "tournament-style" helmets; from the crown positioned above the visor of the helmet in the centre stands the eagle as described above, the helmets on the right and left are turned towards one another, from the crown on the right helmet floats a golden star between two alternately coloured gold and black buffalo horns, from the crown on the left helmet come three ostrich feathers, viz. two blue and one silver.
Supporters: In the foreground as supporters are, right, an upright golden lion with open jaws, red outstretched tongue, and holding the shield with the forepaws; left a silver unicorn, likewise supporting the arms with front feet.
Motto: Beneath the shield are written on a flowing red and white band the Latin words: 'Concordia, Integritas, Industria' (Harmony, Integrity, Diligence).
https://commons.wikimedia.org/wiki/File%3AGreat_coat_of_arms_of_Rothschild_family.svg
File:Great coat of arms of Rothschild family.svg - Wikimedia Commons
Please Help!
DrawShield is a Free service supported by its users.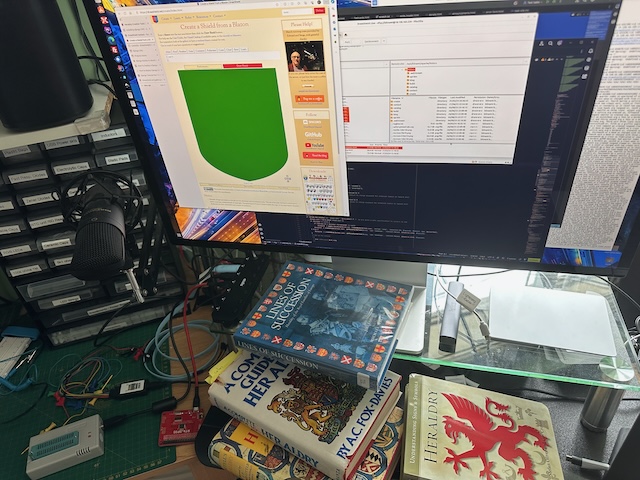 If you can, please help cover the cost of the server, or just buy the team a coffee to say thanks!
Buy me a coffee
Test Me