Banner of the Papal Swiss Guard
This work is licensed under a Creative Commons Attribution-ShareAlike 4.0 International License. Use the "Show on Create Page" button to find links to the contributing artists

    quarterly
I gu
2 keys in saltire arg and or much bigger higher to
 the dexter
a horsehead shaped escutcheon or in fess point much
 bigger slightly bigger lower to the dexter;
a horsehead shaped escutcheon az grady in annulo dodger
 blue
a sun or grady in annulo orange stroked or in chief
 bigger slightly bigger lower slightly lower
a sun or grady in annulo golden brown stroked or very
 much rotated in chief bigger slightly bigger lower
 slightly lower
a roundel gyronny of 60 grady in annulo or and golden
 brown and grady in annulo or and golden brown in chief
 smaller slightly smaller lower slightly lower fimbriated
 or charged with the letter "IHS" gu grady in bend
 orange stroked sa bigger slightly bigger to the sinister
 charged with
a long cross gu grady in annulo orange stroked sa
 very much bigger bigger very much narrower very much
 taller very much higher much higher higher slightly
 higher much to the dexter slightly to the dexter
a closing nail sa stroked or bendwise in chief very
 much smaller much smaller smaller slightly smaller
 much lower lower slightly to the dexter
a closing nail sa stroked or bendwise sinister in
 chief very much smaller much smaller smaller slightly
 smaller much lower lower slightly to the sinister
a closing nail sa in chief very much smaller very
 much smaller much lower lower
a mullet of 8 gyronny of 16 grady in annulo or and
 golden brown and grady in annulo or and golden brown
 fimbriated or very much smaller smaller much to the
 dexter to the dexter lower slightly lower
a lilac sprig or grady in annulo orange leaved golden
 brown stroked dark goldenrod bendwise sinister very
 much smaller smaller slightly smaller much to the
 sinister to the sinister slightly to the sinister
 lower slightly lower; in fess point much bigger lower
 to the dexter;
a cartouche arg in chief bigger much wider to the
 dexter lower
a mitre proper in chief much bigger much lower to
 the dexter
3 spanish ducal crown proper in pale in chief bigger
 much wider to the dexter lower
II sa a square shaped escutcheon barry of 5 az or
 gu or az in sinister chief very much bigger very much
 bigger slightly bigger very much lower slightly lower
 very much to the dexter to the dexter slightly to
 the dexter
III sa a square shaped escutcheon barry of 5 gu or
 az or gu in fess point very much bigger very much
 bigger slightly bigger lower to the dexter;
IV gu
2 keys in saltire arg and or much bigger lower to
 the sinister
a horsehead shaped escutcheon or in fess point much
 bigger slightly bigger much lower lower to the sinister;
a horsehead shaped escutcheon royal blue grady in
 annulo az
an oak tree eradicated or grady in annulo orange trunked
 or stroked dark goldenrod very much taller much lower
 smaller; in fess point much bigger much lower lower
 to the sinister;
a cartouche arg in chief bigger much wider to the
 sinister much lower lower
a mitre proper in chief much bigger very much lower
 slightly lower to the sinister
3 spanish ducal crown proper in pale in chief bigger
 much lower lower much wider to the sinister;
over the quarters a fillet cross arg
a circle shaped escutcheon per fess grady in annulo
 arg and platinum and grady in annulo az and sapphire
 blue
an ostrich feather or grady in bend golden brown stroked
 gray-dolphin in chief much bigger lower slightly lower
 much to the dexter to the dexter slightly to the dexter
 rotated
an ostrich feather arg grady in bend sinister platinum
 stroked gray-dolphin reversed in chief much bigger
 lower slightly lower much to the sinister to the sinister
  rotated sinister
an ostrich feather gu grady in pale cherry red stroked
 gray-dolphin in chief much bigger lower rotated sinister
 to the dexter
an esquire helmet proper in fess point smaller higher
a bundle of 3 ostrich feather or grady in pale golden
 brown stroked gu much bigger rotated bendwise in fess
 point lower very much to the dexter to the dexter;
a bundle of 3 ostrich feather arg grady in pale platinum
 stroked gu much bigger reversed rotated sinister bendwise
 sinister in fess point lower very much to the sinister
 to the sinister;
a spanish shaped escutcheon gu grady in annulo ferrari
 red
a stag horn or grady in pale golden brown stroked
 sa fesswise in dexter side smaller higher,
a plough share arg grady in annulo iron stroked sa
 in sinister side bigger to the dexter slightly higher
a fillet bordure sa; in lower half; in fess point;
a laurel wreath vert stroked forest-green fimbriated
 dark-forest-green in fess point much bigger
a laurel wreath inverted vert stroked forest-green
 fimbriated dark-forest-green in fess point much bigger

a fringe

To reproduce this image exactly you need to set your preferences to:
Shield Shape

square

Visual Appearance

none

Palette For Heraldic Tinctures

drawshield

Aspect Ratio

1:1

Named Web Colours

Enabled

Warhammer Colours

Enabled
Notes
The arms in first quarter are that of the reigning Pope (Francis) and that in fourth quarter the arms of Pope Julius II. The second and third quarters feature the colors of the Swiss Guard and house of Medici, red yellow, blue. The arms in center are that of the current commander of the guard Christoph Graf.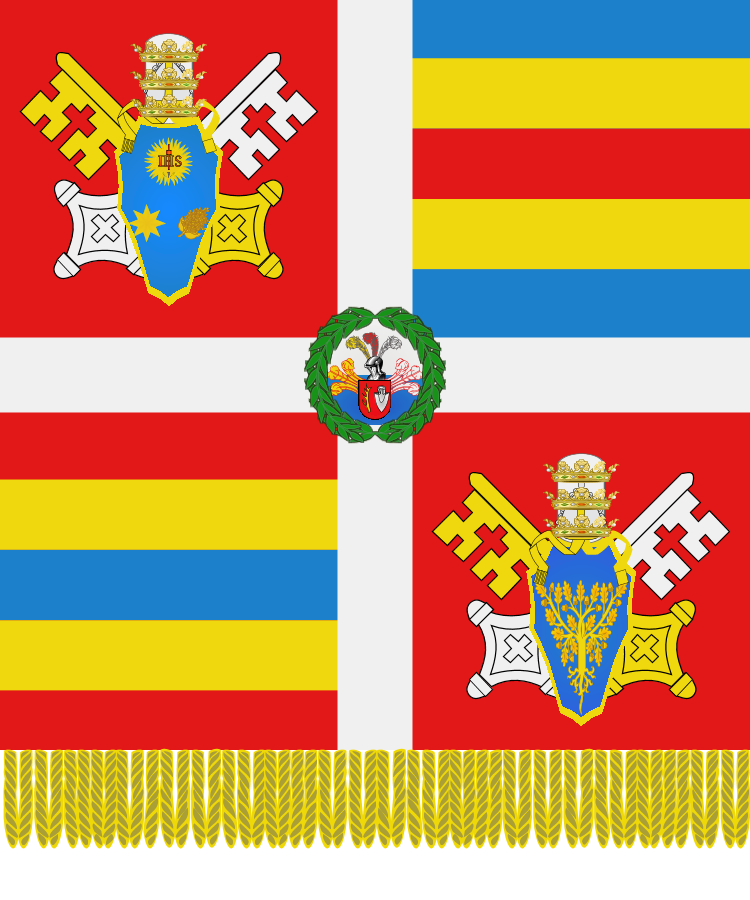 If you would like to modify this blazon and see the effects .
If you have some helpful feedback or would like to comment on this shield design please click on the button below. Your comment will be moderated and added to this page.
Please Help!
DrawShield is a Free service supported by its users.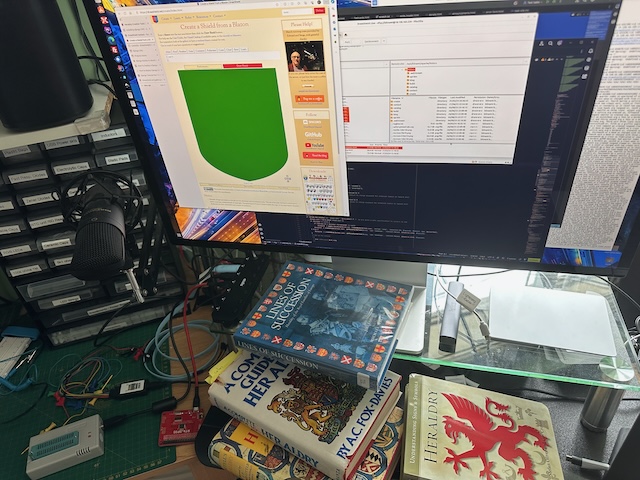 If you can, please help cover the cost of the server, or just buy the team a coffee to say thanks!
Buy me a coffee
Test Me