Charles d'Albert (1578-1621)

    Quarterly:   I and IV, or
    a lion gules,       armed, langued and crowned azure (d'Albert)
        slightly higher;   II and III, azure     two wolves rampant combatant argent (de Ségur)
      slightly higher;;
    over all an escutcheon gules,
      a mace of or garnished sable in pale,
      a chief argent charged with a gonfanon gules
 (de Sarrat).
Drawn in a French shape
-- Charles d'Albert (1578-1621)

With Tags: d'Albert
Suggested by an anonymous user, who adds:
While this lacks the notion of a mace "garnished" or "handled" sable, this represents Ecartelé : I et IV, d'or, au lion de gueules, armé, lampassé et couronné d'azur (d'Albert) ; II et III, d'azur à deux loups rampant d'argent affrontés (de Ségur) ; sur-le-tout, de gueules à une masse d'armes d'or garnie de sable et posée en pal, au chef d'argent chargé d'un gonfanon de gueules (de Sarrat). quite well.
If you would like to modify this blazon and see the effects click here to copy it into the "create" page.
If you have some helpful feedback or would like to comment on this shield design please click on the button below. Your comment will be moderated and added to this page.
Please Help!
The server has running costs, I have coffee needs.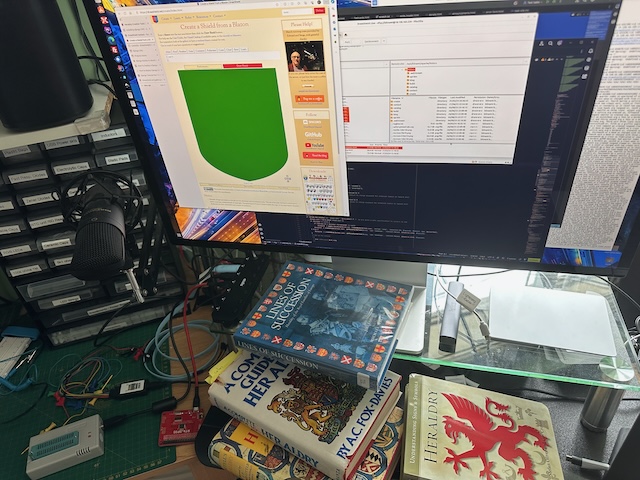 Please donate to make sure we don't run out of either!
Buy me a coffee
Test Me