SOUTHAMPTON (Hants).
SOUTHAMPTON (Hants). Party per fesse gules and argent, three roses counterchanged. Crest — Upon a mount vert, a double tower or, and issuing from the upper battlements thereof a demy female affrontee proper, vested purpure, crined and crowned with an Eastern coronet also or, holding in her dexter hand a sword erect point upwards argent, pommel and hilt of the second, and in her sinister hand a balance sable, the pans gold.
In the visitation book, in the drawing of these arms of Southampton, the escutcheon rests upon a mount vert, issuing from waves of the sea, and thereupon placed on either side of the escutcheon a ship of two masts at anchor, the sails furled all proper, the round top or, and from each mast-head flying a banner of St George, upon the stern of each vessel a lion rampant also or, supporting the escutcheon exactly as shown in the illustration. But I question if the whole of this environment can be justly included under the heading of " Supporters." The seal simply shows upon waves of the sea a ship of three masts in full sail, the main-sail being charged with the escutcheon onl)'. Legend, " Sigillum commune villas Southamptoniae." The arms are frequently made use of with the colours reversed. The arms were granted 4th August
Original Source bookofpublicarms00foxd_djvu.txt near line 24069.
Please Help!
The server has running costs, I have coffee needs.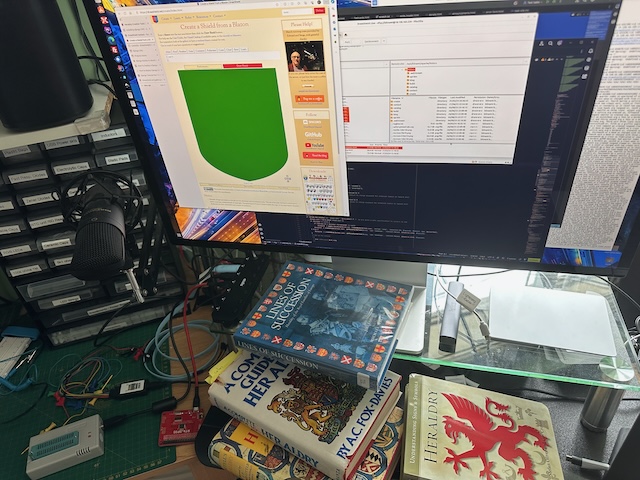 Please donate to make sure we don't run out of either!
Buy me a coffee
Test Me