STAFFORDSHIRE .
STAFFORDSHIRE Has no armorial bearings. The County Council have adopted for the seal and stationery the arms " Or, a chevron gules," which are those of the old family of Stafford, now represented by the Right Hon. Baron Stafford, who quarters the said arms. His Grace the Duke of Sutherland, who is Marquess of the County of Stafford — the title being used by his eldest son — is not connected with the Stafford family. The County Council surround the arms with a continuous succession of Stafford knots "a la Cordeliere," adorned with four medallions, having allusion to the industries of the County, and bearing: (i) A garb, I imagine, for Agriculture; (2) A jug, presumbly for the Pottery trade ; (3) The astronomical sign of Mars, which is always understood to represent the Iron industry; and (4) A black lozenge, which I can only suggest may have some allusion to a lump of coal. Burke in his

"General Armory" plants inter alia on the long-suffering town of Stafford a coat which he blazons "the base vert, a castle triple-towered ppr. between four lions passant guardant or, in base a lion of the last." This is the coat which, on the " twopenny coloured " sheet of county arms frequently alluded to, appears in all its gorgeous colouring. Berry takes " from an entry in the Office of Arms in 1778 " the real coat of the town of Staftbrd, and gives that : but the County of Staffordshire is usually represented by the badge of the Stafford knot, as witness its appropriation by the North Staffordshire Railway.

Original Source bookofpublicarms00foxd_djvu.txt near line 24309.
Please Help!
The server has running costs, I have coffee needs.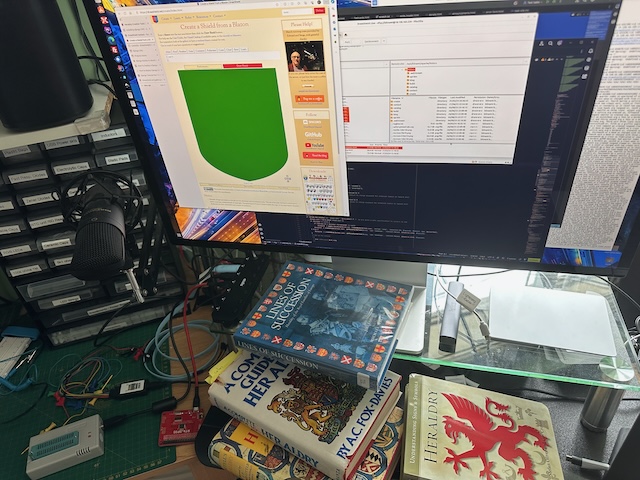 Please donate to make sure we don't run out of either!
Buy me a coffee
Test Me