Monuments and Tombs
Monuments and Tombs
Monuments and Tombs. All nations have in some way or another honoured valiant men and noble races by distinguished places of sepulture.
But we now only treat of the time when itbecame customary to bury in churches, and when certain distinctive marks were devised to denote the estate and condition of those who lay in the several places of repose. Kings and Princes were represented lying on their tombs (which were made in the shape of altars), in their armour, with their escutcheons, crowns, and all other marks of royalty about them.
Knights and Gentlemen could not be sorepresented unless they died on the field or within their own lordships.
Those who died victorious in battle weredepicted with sword naked, point upwards, on the dexter side ; their shield on the sinister ; their helmets on their heads. Those of the vanquished side who were slain. wore represented without their surcoat, their sword in its scabbard ; vizor raised, hands Joined, as in prayer, on their breast; their feet on a dead lion. N.B. Those who died on their lordships were represented in a similar way, only that they had on their surcoat of arms.
The son of a General, or Governor of afortress, dying, while the place was besieged, was depicted in armour, with his head resting on a helmet instead of a pillow. If a Knight or Gentleman entered any religious order when old, he was represented armed, but with the habit of his order instead of a surcoat.
A Knight, or Gentleman, slain in singlecombat, was represented in armour, his axe out of his hand, his left arm crossed over his right. The Victor was similarly represented, but with his axe in his hand, and his right arm over his left. Those who had gone to the Holy Land were depicted with the right leg crossed over the left, and their sword drawn by their side ; those who had vowed to go, but who died without accomplishing their vow, were depicted with their left leg over the right, and with their sword in its scabbard.
Those who died prisoners are said to havebeen represented without spurs, helmet, or sword, though there is little warrant for this.
By degrees these rules fell into disuse, andpersons placed figures in any position they pleased upon monuments to siut their own fancy. See Crest.
Please Help!
DrawShield is a Free service supported by its users.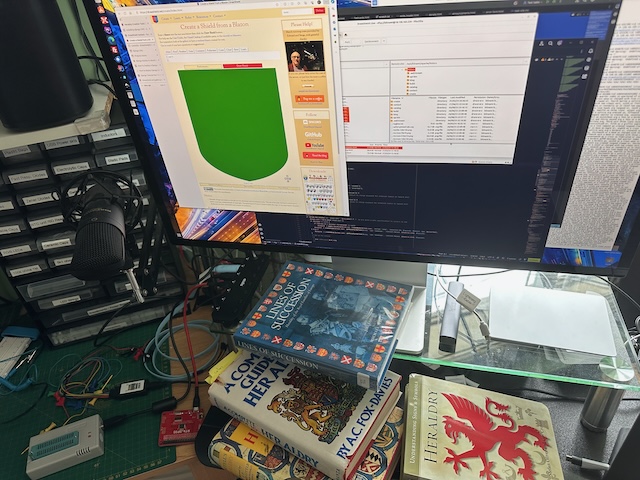 If you can, please help cover the cost of the server, or just buy the team a coffee to say thanks! All donations are greatly appreciated.
Buy me a coffee
Test Me