Plate 33.
Plate 33.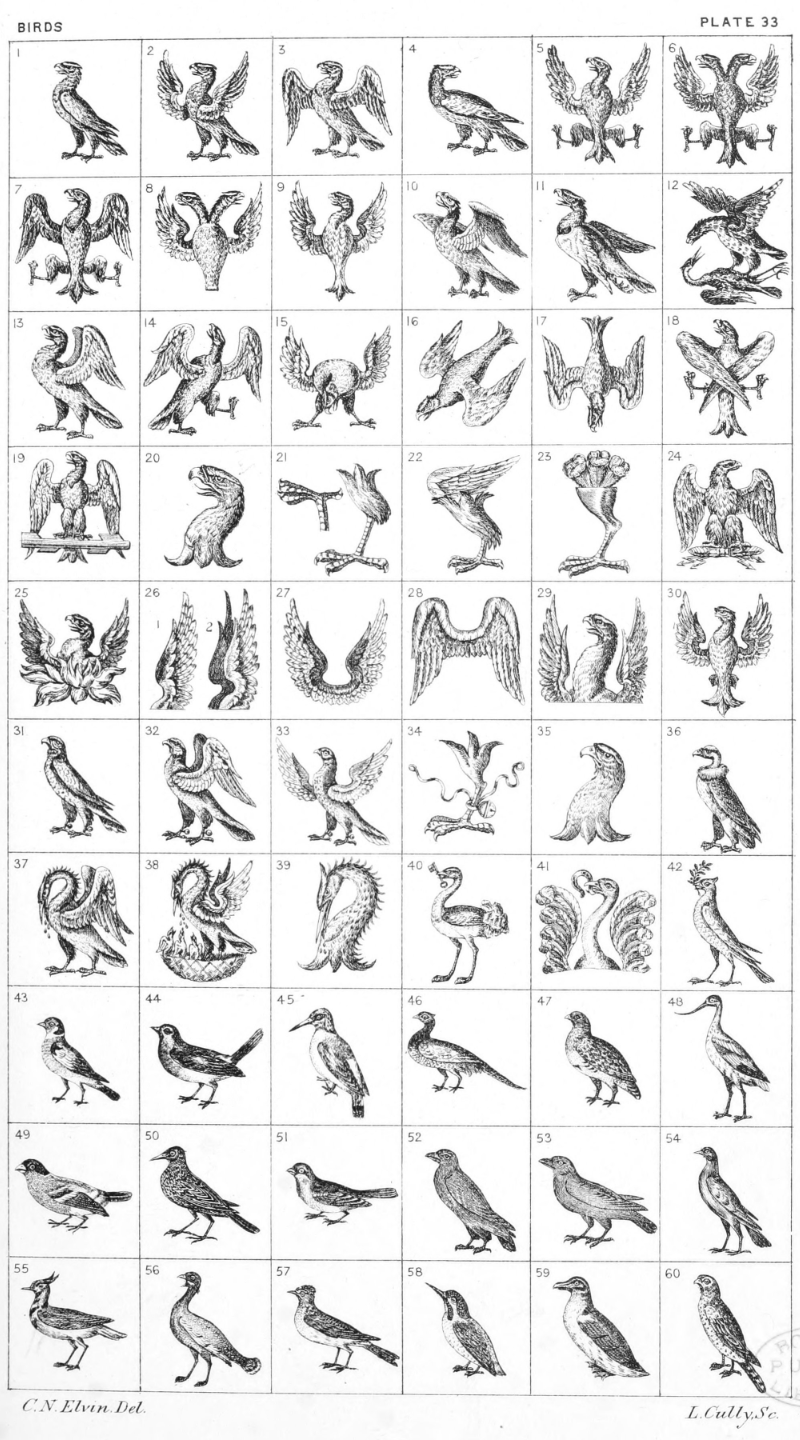 Plate 33.
Eagle, sometimes termed an eagle close
wings expanded, also termed eagle wings overture, elevated
Eagle rising, or an eagle wings expanded and inverted, also eagle wings overture
Eagle reguardent
Eagle displayed
Eagle displayed with two heads, also termed a spread eagle
Eagle displayed wings inverted
Eagle demi displayed with two heads, or demi spread eagle
Eagle displayed, sans legs
Eagle wings surgeant-tergiant
Eagle mantling
Eagle preying, or trussing
Eagle wings endorsed and inverted
Eagle degenerate at gaze aloft, wings surgiant, holding up the left foot
Eagle displayed foreshortened
Eagle volant recursant, descending in bend sinister, wings overture
Eagle volant recursant descendant in pale wings overture
Eagle displayed recursant, or tergiant
Eagle perched
Eagle's head erased
Eagle's leg reversed, or Eagle's talon reversed, and an Eagle's leg erased at the thigh, termed A la quise
Eagle's leg erased at the thigh conjoined to a sinister wmg
Eagle's leg couped at the thigh conjoined to a plume of Ostrich's feathers
The French Imperial Eagle
Phoenix
Sinister wing, or a demi vol, and two wings endorsed
Wings conjoined in base
Wings conjoined in lure, or wings inverted
An Eagle's head couped betw. two wings
Allerion
Falcon close
Falcon wings endorsed and Inverted
Falcon wings expanded and distended
Falcon's leg erased at the thigh, belled, jessed and varvelled. Also termed a Falcon's leg a la quise, or Cuisse, etc.
Falcon's head erased
Vulture
Pelican
Pelican in her nest, or in her piety
Pelican's head erased and vulning
Ostrich
Ostrich's head couped betw. two ostrich wings
Dove with Olive-branch
Goldfinch
Robin
Woodpecker
Cock Pheasant
Partridge
Avocet
Bulfinch
Starling
Sparrow
Raven, or Corbie
Crow, or Rook
Chough, or Cornish chough
Lapwing, Pewit, or Terwhitt
Bustard
Lark, or Sky-lark
Kingfisher
Razor-bill
Kite
Please Help!
DrawShield is a Free service supported by its users.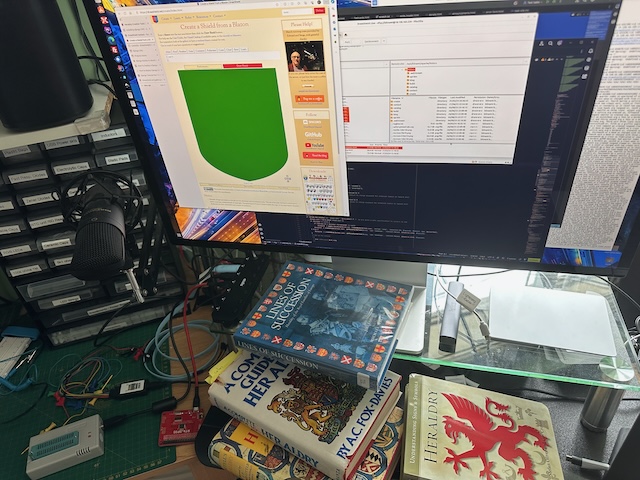 If you can, please help cover the cost of the server, or just buy the team a coffee to say thanks!
Buy me a coffee
Test Me