Plate 39.
Plate 39.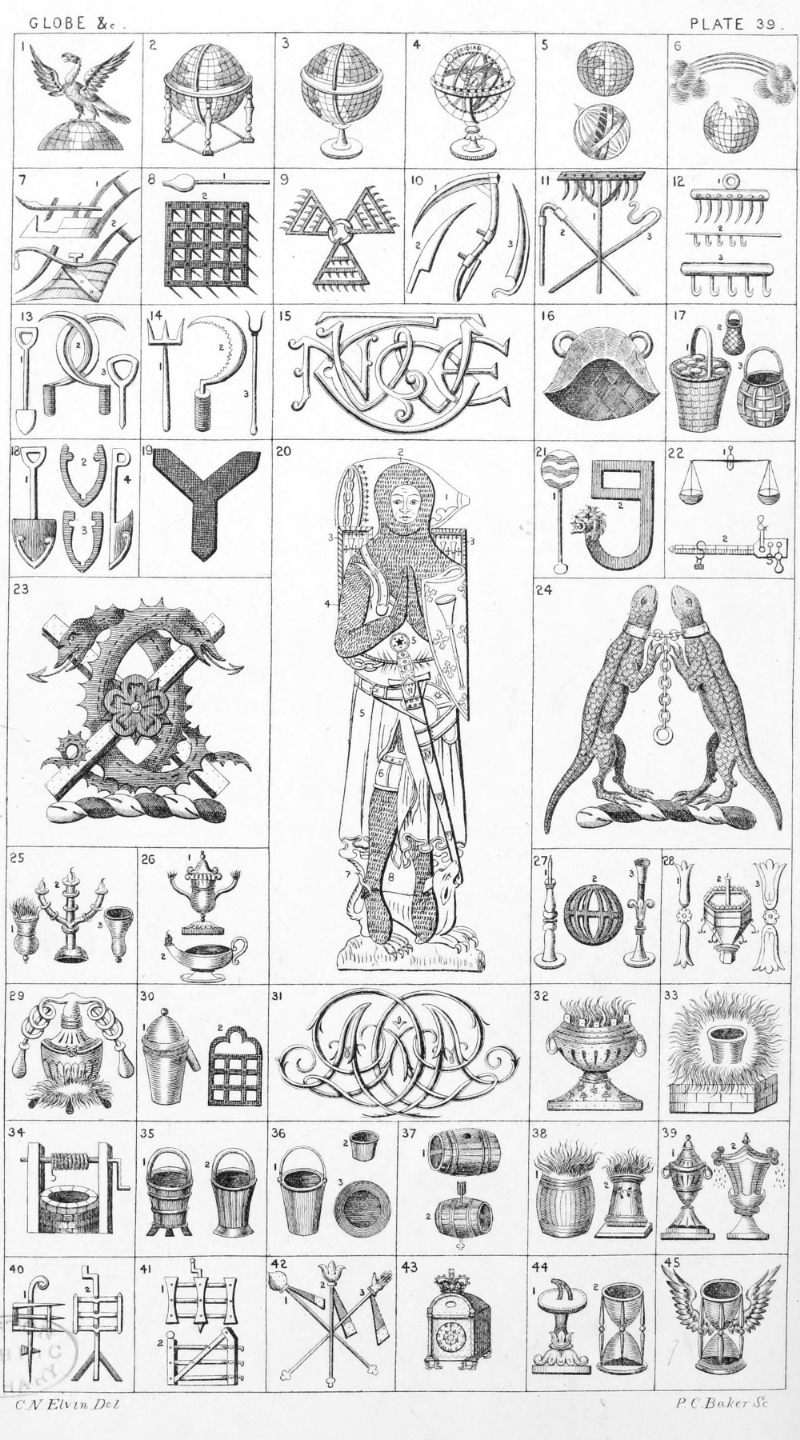 Plate 39.
Demi Globe, or Northern Hemisphere thereon an Eagle wings expanded
Globe Terrestrial in frame environed with a meridian
Globe Terrestrial with stand environed with a meridian
Armillary sphere
A Terrestrial and Celestial Globe
A Broken, or fractured Globe under a Rainbow with Clouds at each end all ppr. Crest of Hope. Rain- bow. Globe Fractured
Two Ploughs
Plough paddle 1. Harrow 2
Three triangular Harrows conjoined in fesse point with a ring
Scythe, or Sithe i. Coulter 2. Scythe blade 3
Rake I. Flail 2. Shepherd's-crook 3
Tillage-rake head 1 and 3. Thatchrake 2
Mole-spade 1. Sickles, or Reaping-hooks interlaced 2. Dibble 3
Dung-fork 1. Sickle with teeth, or Serrated 2. Pitch-fork 3
Monogram T.W.N.E.
Winnowing-basket, Shruttle, Scruttle, Fruttle, Fan, or Vane
Basket with loaves, or a Basket full of Wastel cakes 1. Basket as in the arms of Littlebury 2. Basket as in the arms of Wolston 3
Spade 1. Spade irons 2 and 3. Half-spade 4
Hay-Fork, or Shake-Fork
A Brass. Heaume, or Bascinet 1. Coif de mailles 2. Ailettes 3. Hawberk 4. Surcoat 5. Poleyns 6. Pryck spur 7. Chausses 8. Sir Roger de Trumpington, 1289 Trumpington, Camb.
Scoop 1. Hay-hook, also termed a Horsepicker. 2.
Pair of Scales 1. Steelyard, or Statera Romana 2
On a Saltire, or interlaced by two Amphisbaenae az. langued gu. a rose of the last barbed and seeded ppr. Crest of Gwilt
Two scaly Lizards erect on their hind feet combatant ppr. each gorged with a plain collar or, the collars chained together, a chain with a ring at the end pendent between the two lizards of the last
Lamp inflamed, borne by Tanner 1. Antique Lamp as borne by the family of Leet 2. Lamp as in Berry's Heraldry 3
Roman Lamp i. Hand, or Burning Lamp 2
Taper Candlestick with Candle inflamed 1. Globular, or Ship's Lamp, also termed a Lantern 2. Taper Candlestick 3.
Candlestick 1 and 3. Mortcours as in the armorial Bearings of the Wax-Chandlers Company 2
Distillatory
Still 1. Limbeck, or Alembeck 2
Cyphers A.D. Reversed
Flaming Brazier
Fiery-Furnace
Well with frame and handle
Bucket, or Well-bucket, also termed a hooped bucket 1. Bucket 2
Fire Bucket 1. Cup 2. Dish 3
Tun, Barrel, or Cask 1, Bolt and Tun 2
Tun erect inflamed 1. Altar inflamed 2
Urn 1. Salts, Salt-cellar, or Sprinkling Salt 2
Two examples of Turnpikes
Turnpike 1. Gate 2
Goog 1. Ullum 2. Punja 3
Clock as borne by the Clock Makers' Company
Sundial 1. Hour-glass, or sand-glass 2
Hour-glass winged
Please Help!
DrawShield is a Free service supported by its users.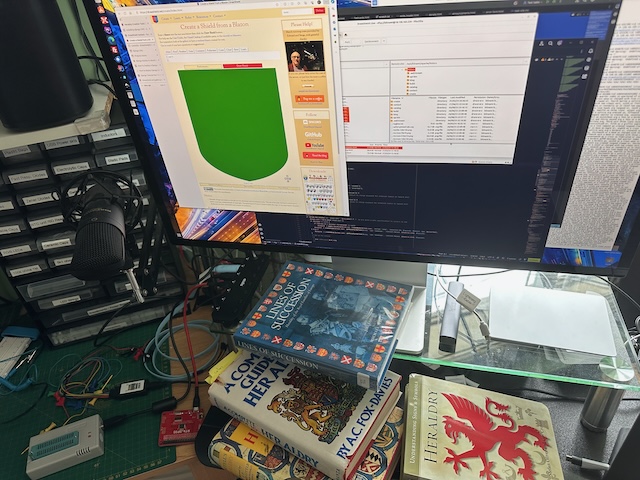 If you can, please help cover the cost of the server, or just buy the team a coffee to say thanks!
Buy me a coffee
Test Me