Plate 44.
Plate 44.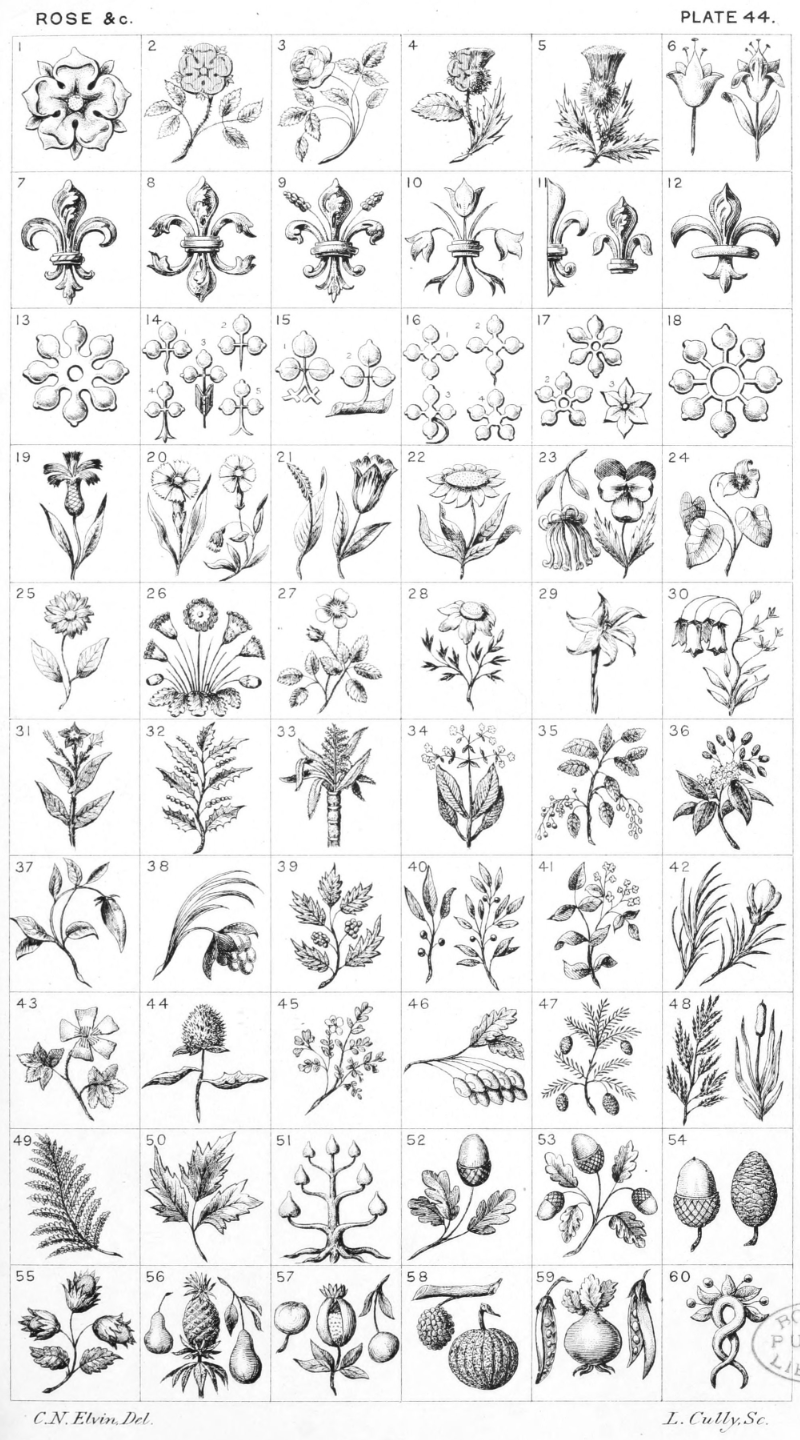 Plate 44.html
Rose Heraldic
Rose Branch
Garden Rose stalked and leaved
Rose and Thistle conjoined
Thistle slipped and leaved
A Lily ; and a Lily stalked and leaved
Fleur-de-lis
Double Fleur-de-lis
Fleur-de-lis seeded
Fleur-de-lis of lilies
Demi Fleur-de-lis is divided per-pale. A Fleur-de-lis couped
Antique Fleur-de-lis
Caterfoil double and pierced
Trefoils No. 1 generally used. 2. Fitched. 3. Slipped raguled and couped. 4. Triple slipped. 5. Double slipped
Trefoil double slipped raguled and couped ; and a Trefoil the stalk fixed fo a twig lying fesseways
1. Quatrefoil, or Quaterfoil. 2. Slipped ; sometimes slipped as No. 3. No. 4 Cinquefoil
1. Narcissus. 2. Cinquefoil pierced. No. 3. Angenim
Eight-foil, or double Quatrefoil
Blue-bottle, or Cyanus
Gilly Flower ; and a Pink, or Carnation
Adders tongue; and a Tulip
Marygold
Columbine; and a Pansy, or Heart's ease
Violet stalked and. leaved
Daisy stalked and leaved
Margarette Daisy. Badge of Margaret consort of Hen. VL (From the Shrewsbury Missal, Brit. Mus,)
Bramble, or Wild Rose
French Mary gold
Flower of the Flag
Bell flowers, or Blue-bell
Tobacco plant
Grain tree
Sugar cane
Tea-plant
Cherry Branch fructed
Cinnamon
Almond slip
Date branch fructed
Holly sprig, or Sprig of Ilex
Laurel sprig; and Laurel branch
Watercresses
Broom plant ; and Broom flower
Mallow
Bur of Burdock
Rue
Ash, or Ashen Keys
Fir branch
Reeds ; and a Bull-rush
Fern
Elder-branch
Crequier Plant, or Wild-plum
Oak slipped
Oak branch
Acorn ; and a Fir or Pine cone
Nut or Hazel branch
Pear ; a Pine Apple ; and Pear slipped
Apple ; a Pomegranate ; and Apple slipped pendant
Mulberry, and a Gourd
Pea-cod; a Turnip ; and Bean-cod, or pod
Mandrake
Please Help!
DrawShield is a Free service supported by its users.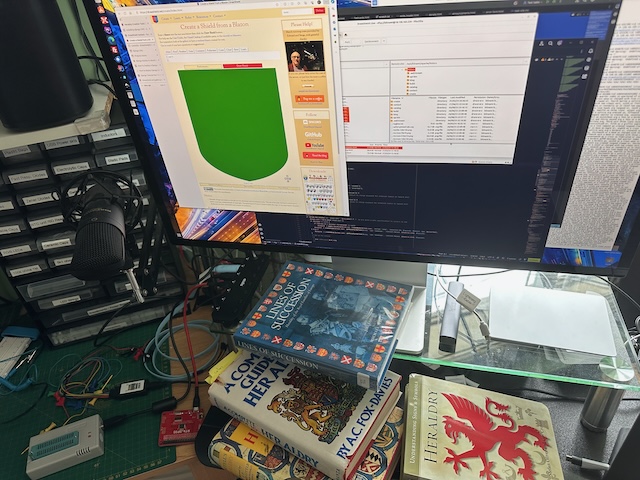 If you can, please help cover the cost of the server, or just buy the team a coffee to say thanks!
Buy me a coffee
Test Me