Plate 7.
Plate 7.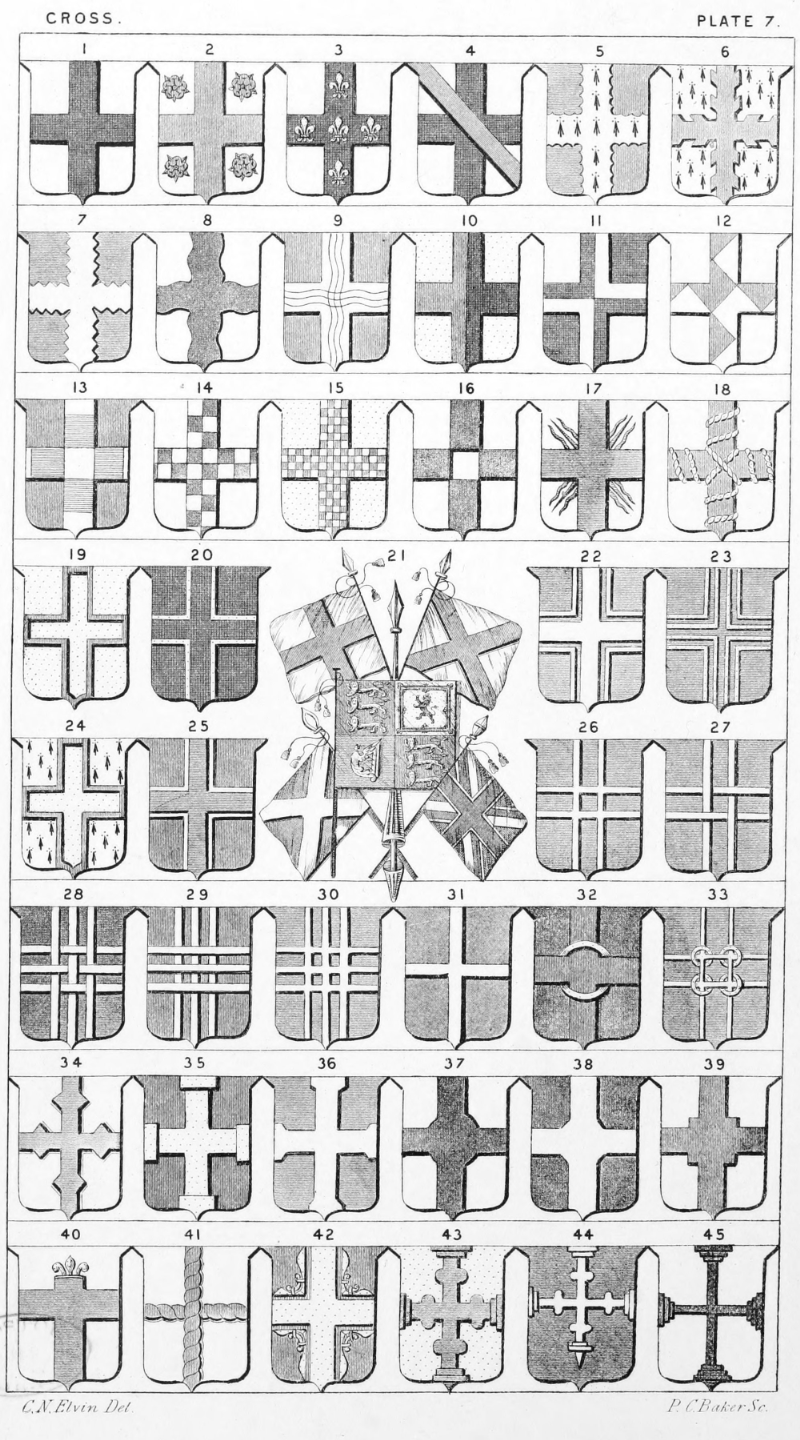 Plate 7.
Cross. Ar. a Cross sa.
Cross between four Roses
Cross On a Cross five fleur-de-lis
Cross Cross surmounted by a Bendlet
Cross engrailed. Per pale az. and gu. over all a cross engr. erm.
Cross raguly or raguled
Cross indented
Cross wavy, or undee
Cross watery, or a plain cross waved per-pale
Cross counter-quartered, or quarterly- quartered, or quarterly a cross countercharged
Cross point in point
Cross gobony, or componee
Cross counter componee, or counter gobony
Cross chequy
Cross quarter-pierced
Cross rayonnated, or rayonnant
Cross corded
Cross clechee, recourse, or recoursie
Cross voided, also termed sarcelle.
Cross Gu. a cross or voided of the field
The Royal Banner, ditto of St. George, St. Andrew, and St. Patrick. The "Union Jack" or National Banner, this flag is blue, bearing the Red Cross of St. George, the Saltire, or White Cross of St. Andrew, and the Red Saltire, or Cross of St. Patrick, combined
Cross recercelled of another, also blazoned cottised
Cross double voided, also termed voided sarcelled
Cross fimbriated, or bordered
Cross surmounted of another
Cross double-parted
Cross double-parted and fretted
Cross triparted and fretted
Cross of three endorses surmounted of as many barrulets
Cross treble-parted
Cross fillet
Cross fretted with an annulet. The arms of Crusamell
Cross double-parted fretted with four annulets
Cross lozengy-nowed, or lozengée-nowed
Cross degraded
Cross pattee fixed, double-rebated
Cross nowy
Cross nowy-lozengy
Cross nowy-quadrat
Cross couped, at the top and flurt
Cross cable, or cablee
Cross cottised with eight demi fleur-de-lis, properly a cross recercelled with eight demi fleur-de-lis, their bottoms towards the fesse point conjoined
Cross nowed grady fixed
Cross nowed grady conjoined fitchee
Cross degraded and conjoined, or issuing from twelve degrees
Please Help!
DrawShield is a Free service supported by its users.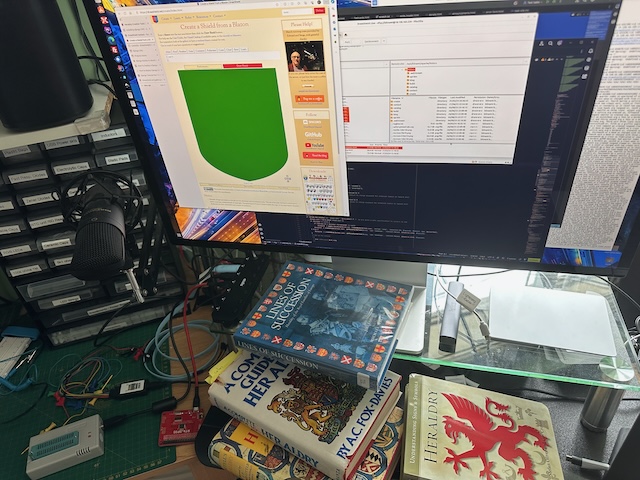 If you can, please help cover the cost of the server, or just buy the team a coffee to say thanks!
Buy me a coffee
Test Me