SOUTH SEA COMPANY.
SOUTH SEA COMPANY. (Established by Act of Parliament, 1712.) Azure, a terrestrial globe showing the Western Hemisphere, whereon are represented the Continent of America and the islands thereunto belonging, together with the Straits of Magellan and the Cape Horn all proper ; in dexter chief the arms of the United Kingdom of England and Scotland, and in sinister two herrings saltirewise proper, crowned or. Crest — On a wreath of the colours, a British man-of-war under sail, the men, masts, rigging, and anchors proper, purfled or, stern, guns, sails, and lanterns gold, the windows argent, having her Ensign, Jack, Standard, Union, and Admiralty flags all displayed. Siif>portcrs — (De.xter) Britannia proper, habited in a crimson vest, the girdle about her waist or, buttons of emeralds at her neck and sleeves, of ruby at her knee, all set in gold, her under-garment argent, reposing her right hand upon an antique shield, garnished or, charged with the Union crosses, placed before a spear gold, the head argent, which rests upon her right arm, and holding in her left hand the badge of the said United Kingdoms ; (sinister) a fisherman proper, habited in a waistcoat open and turned back at the collar russet colour, lined and the cuff's turned up crimson, his shirt appearing at his neck, breast and hands argent, cap on his head gules, turned up with fur proper, about his waist a girdle buckled and his breeches yellow, booted sable, holding on his left arm a fishing net proper. Motto — " A gadibus usque auroram." [Granted, College of Arms, 171 1.]
Original Source bookofpublicarms00foxd_djvu.txt near line 24007.
Please Help!
The server has running costs, I have coffee needs.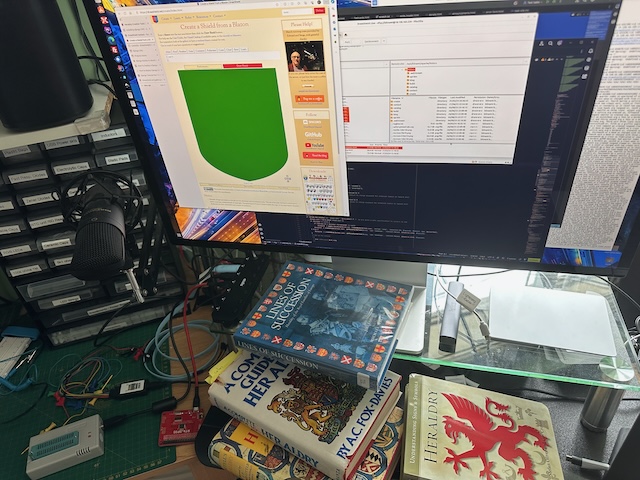 Please donate to make sure we don't run out of either!
Buy me a coffee
Test Me