Marshalling
Marshalling
Marshalling. Is the right disposing of more than one Coat of Arms in one Escutcheon, either by impaling or quartering, and of distinguishing their parts, and contingent ornaments, in their proper places, thereby shewing alliances, descents, etc. See Pedigree.
In Marshalling quarterings, the shield ofthe earliest Heiress whom the bearers ancestor has married, is placed first after the paternal coat ; then succeed any quarterings her descent may bring in ; the same is to be observed in respect to the second Heiress, and so on in chronological order. When a daughter becomes Heiress to her mother, also an Heiress, and not to her Father, which happens when the Father has a Son by another Wife, she bears her Mother's Arms with the shield of her Father on a Canton, taking all the quarterings to which her Mother was by descent entitled. When married, she conveys the whole to be borne on an Escutcheon of Pretence by her Husband, and transmit them at her death to be borne as quarterings by her descendants.
A Grand Quarteeing is generally designedto denote the representation of a family different from that from which the possessor is descended in the linear male line ; it usually accompanies the assumption of a second name, and unites the two associated coats so inseparably, that if they come to be Marshalled with other quarterings they are no longer (as in other cases) spread out among them, but they still remain together as a Grand Quartering. There is no general rule which coat shall take the first place. The paternal coat frequently retains it, but in many cases the assumed arms are borne as the first quarter.
No person can claim a Coat of Arms of inheritiince who is not lineally descendedfrom the person to whom the arms were first granted, and no one can claim any right by inheritance until the death of his ancestor, but with some modification derived from the usage of arms. e.g. The Heir apparent is entitled, according to the custom of arms, to use his ancestor's coat with a label of three points. P. 46.
It will be as well to observe-that no Husbandcan impale his Wife's arms with his own, on a Surcoat, Ensign, or Banner ; nor can a Knight of any Order, when surrounding the shield with the motto of his Knighthood, bear his Wife's coat therein. See P. 16, Husband and Wife called Baron and Fenime. P. 10, f. 21.
Husband and Wife when she is an Heiressor Coheiress, the husband carries her arras in an escutcheon of pretence. P, 11, f. 21. Husband with two or more Wives. P. 40, f. 2 to 8.
When a Widow marries a second Husbandhe impales'her paternal arms. Sea Funeral Achievements, P. 46.
Please Help!
DrawShield is a Free service supported by its users.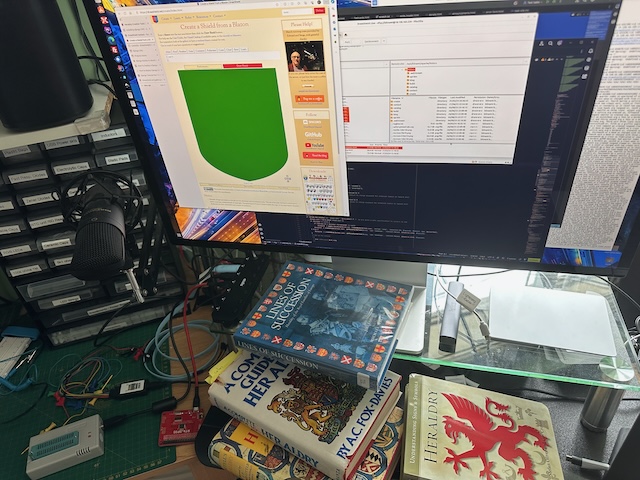 If you can, please help cover the cost of the server, or just buy the team a coffee to say thanks! All donations are greatly appreciated.
Buy me a coffee
Test Me