Plate 46.
Plate 46.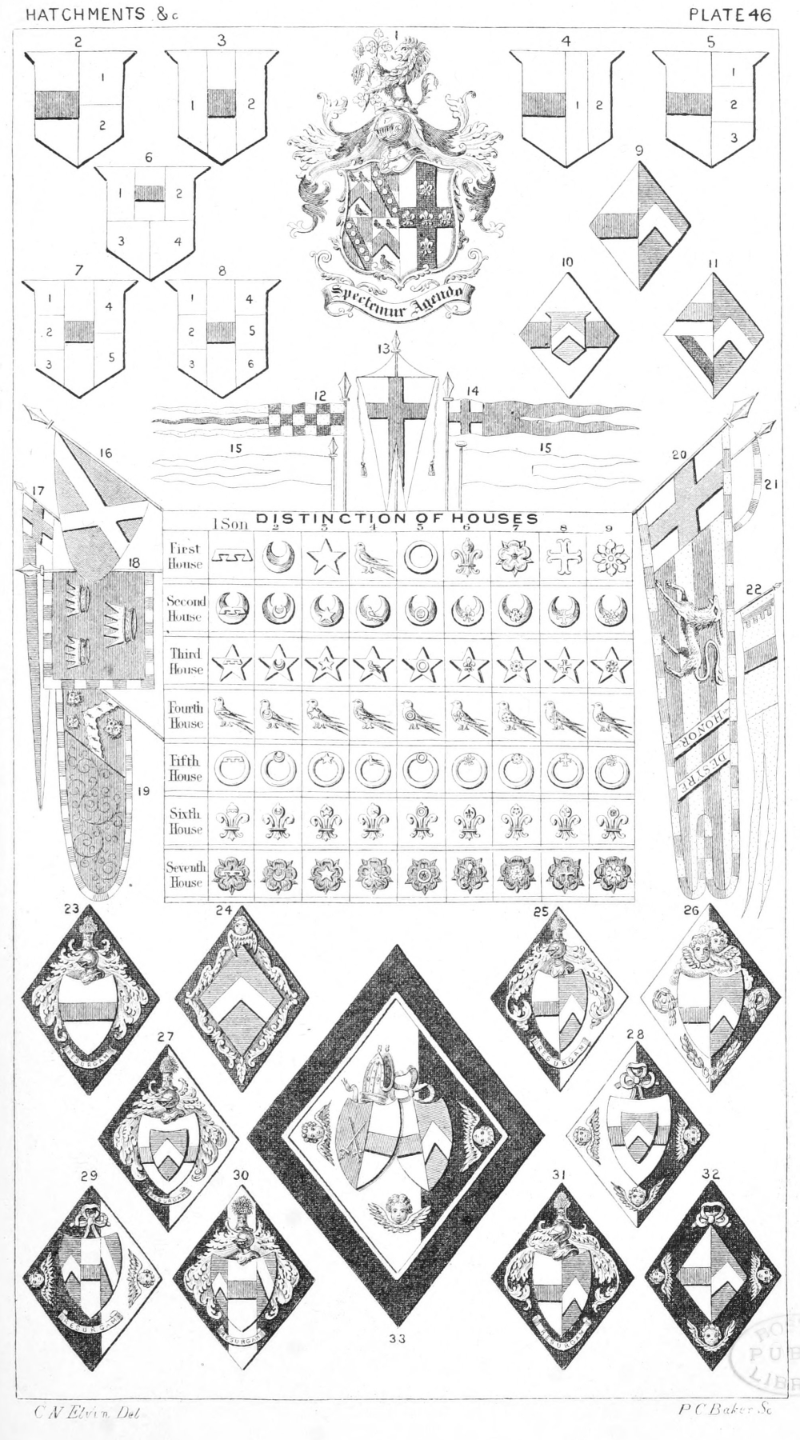 Plate 46.
Man and Wife ; Baron and Femme. The Husbands arms are quarterly, Impaling a single coat. When a man marries a second wife the alliance can be shown in three different ways. The Fesse in the engraved examples shewing the position of the man's arms and the Numerals those of the wives. See term Marshalling
Man and Two Wives
Man and Two Wives
Man and Two Wives
Man and Three Wives
Man and Four Wives
Man and Five Wives
Man and Six Wives
A Widow When a Widow marries a second time, her husband impales her paternal arms. If a Peer marries an untitled lady and he die leaving lier a widow, and she marry for her second husband an untitled gentleman, there is an absurd fashion of bearing the Heraldic Insignia the same as if she was a Peeress in her own right
Widow being an Heiress or Co-Heiress
A Woman having had two husbands
Pennon of Waleran de Bellomont Earl of Worcester, 1144
Gonfanon
Pennon as in the Crest of the Duke of Wellington
Pennoncell's
Triangular Pennon of Ralf Lord Neville, 1386
Pennon
Banner
Pennon
Standard of Hastings of Rising co. Norfolk
Guidon
Pennon of De Quincey Earl of Winchester, who died 1219
Funeral Achievements. Commonly called Hatchments. (See Funeral Achievements.) The engravings, except No. 33, are without the frames
Bachelor
Maid
Husband dead, wife surviving
Wife dead, Husband surviving
Husband dead, wife an Heiress surviving
Wife an Heiress dead. Husband surviving
Husband and first wife dead, second surviving
Both Wives dead, Husband surviving
Widower
Widow
A Bishop, his Wife dead
Distinction of Houses.
Marks of Cadency or of Filiation, also termed Brisures, are charges placed in the shield to express tiic differences of descent, e.g. The distinction of the eldest son of the second House is a crescent charged with a label. The eldest son of the third House, a mullet, charged with a label, etc. See also Plate 16, f. 40 to 45, and P. 23a. f. 1 and 2.
Please Help!
DrawShield is a Free service supported by its users.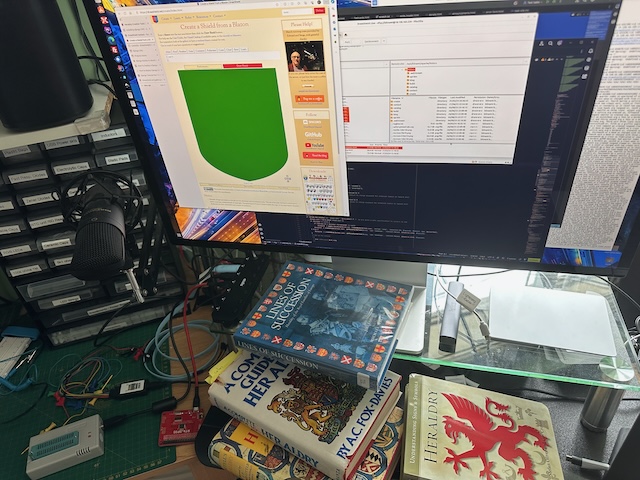 If you can, please help cover the cost of the server, or just buy the team a coffee to say thanks!
Buy me a coffee
Test Me