Plate 12.
Plate 12.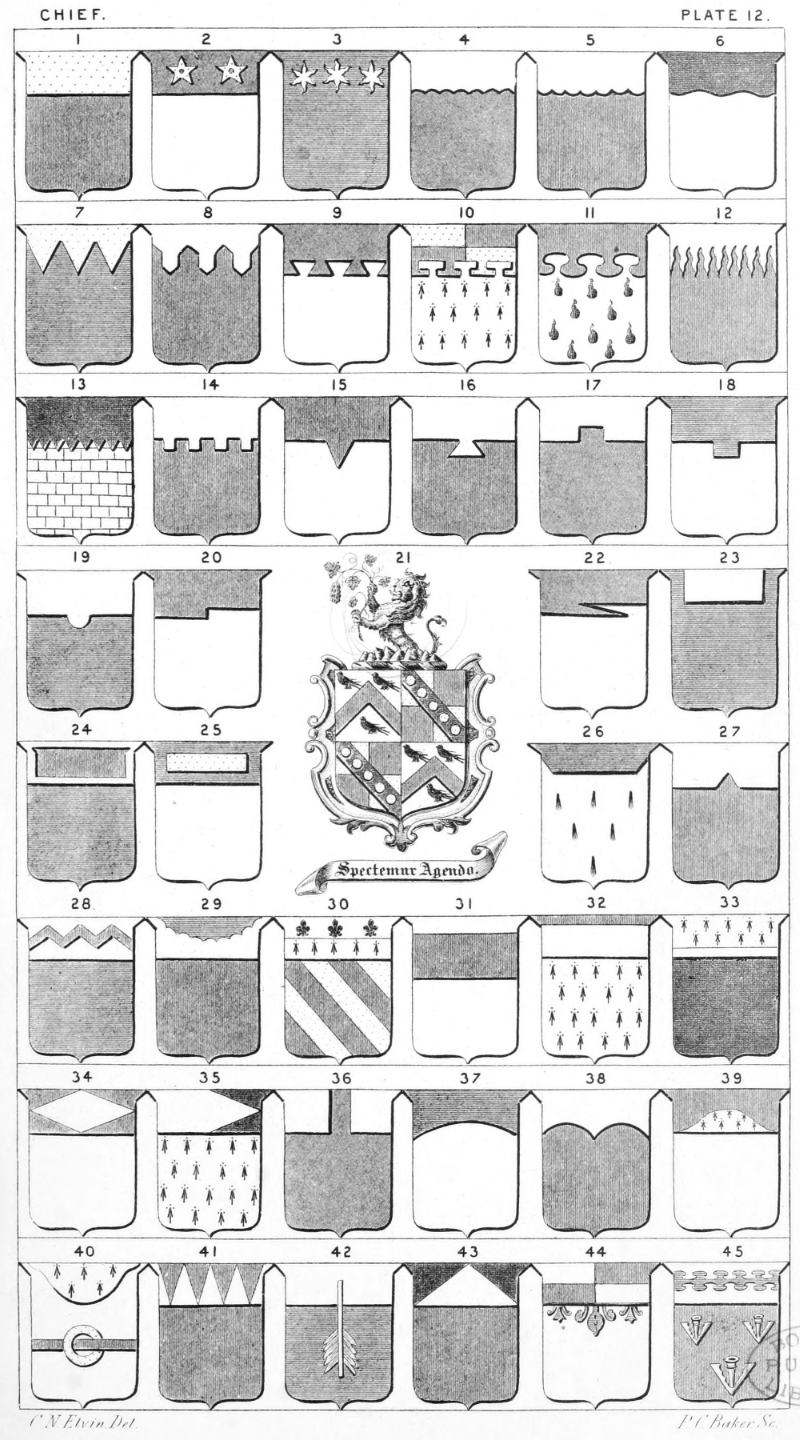 Plate 12.
A Chief. Gu. a Chief or.
Ar. on a Chief vert, two mullets
pierced or. Az. in Chief three etoiles ar.
Chief Engrailed
Invecked, or Invected
Chief Wavy, Wavée, or Undée
Chief Dancettée
Chief Urdee or Champaine, also termed embattled rebated at its corners
Chief Dove-tailed
Chief Quarterly, Potent counter-potent
Chief Nebulée. Ar. Gutte-de-poix, a chief nebulee gu.
Chief Rayonee, Rayed, or Raise Indented. Ar. masoned sa., a chief indented of the second
Chief Crenellee
Chief of one Indent
Chief with one dovetail, also termed a Chief Chief with one label or Lambeaux, or pattee
Chief Escartellee, also blazoned one Chief embattlement in a chief
Chief with one embattlement
Chief Nowed
Chief Angled, or Rect-angled
Arms Quarterly, 1st and 4th ar. a
chev. gu. betw. three martlets sa. Elvin 2nd and 3rd. Quarterly or and gu. on a bend sa. five bezants. Stebbing. Crest Blazoned at plate 8. fig. 21
A Chief Beveled
Chief Couped
Chief Bordered or rempli, also termed Chief Cousu-Chief
charged with a Bar humettée
A Chief Couped bevelwise. Ar. six muschetors, three, two and one and a Chief couped bevelwise az.
Chief with one indent in chief, or a Chief indent
On a Chief a Bar Dancettee, also termed a vivre
Chief Couvert
Chief Per-Fess. Bendy of six ar. and gu. A chief per-fesse ar. and erm. in chief three fleur-de-lis sa.
Chief Lowered or Removed
Chief Surmounted, or Surmounte
Chief charged with a Fillet. Sa. a Chief erm. charged with a fillet in the neither part ar. It is also blazoned a Chief supported or surmounted, and a Chief wdth a fillet in the lower part, also Soustenu, or Souteunee
Chief Vestu, or Revestu
Chief Vestu sinister
Chief Inclave
Chief Arched, convex, or flecked
Chief Double Arched
Chief Charged with a Chapournet, or Shapournett
Chief Chapournated, or a Chapournated-chief. And a Barrulet enfiled with an annulet
Chief Point in Point dented
Chief Pierced by an arrow
Chief Enmancheé, or Chappe. Gu. a chief ar. chappe sa.
Chief Quarterly-Flory counter Flory
Chief Charged with a Bar Nebulee. Gu. three Pheons ar. on a Chief of the last a bar nebulee az.
For Chief Ajouré, and Chausse. See P. 22, fig. 9 and 8.
Please Help!
DrawShield is a Free service supported by its users.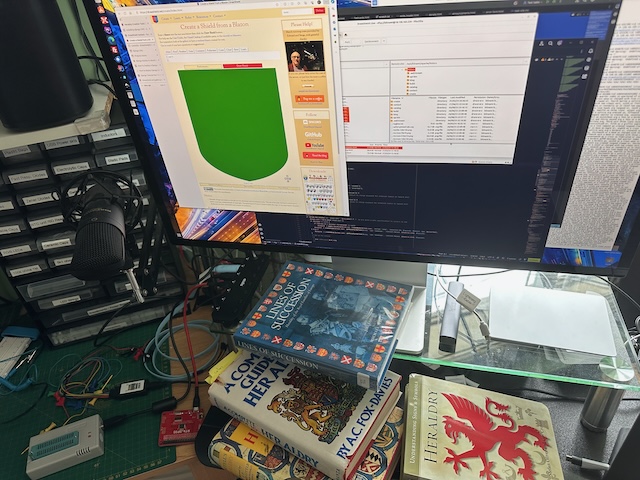 If you can, please help cover the cost of the server, or just buy the team a coffee to say thanks!
Buy me a coffee
Test Me