Plate 29.
Plate 29.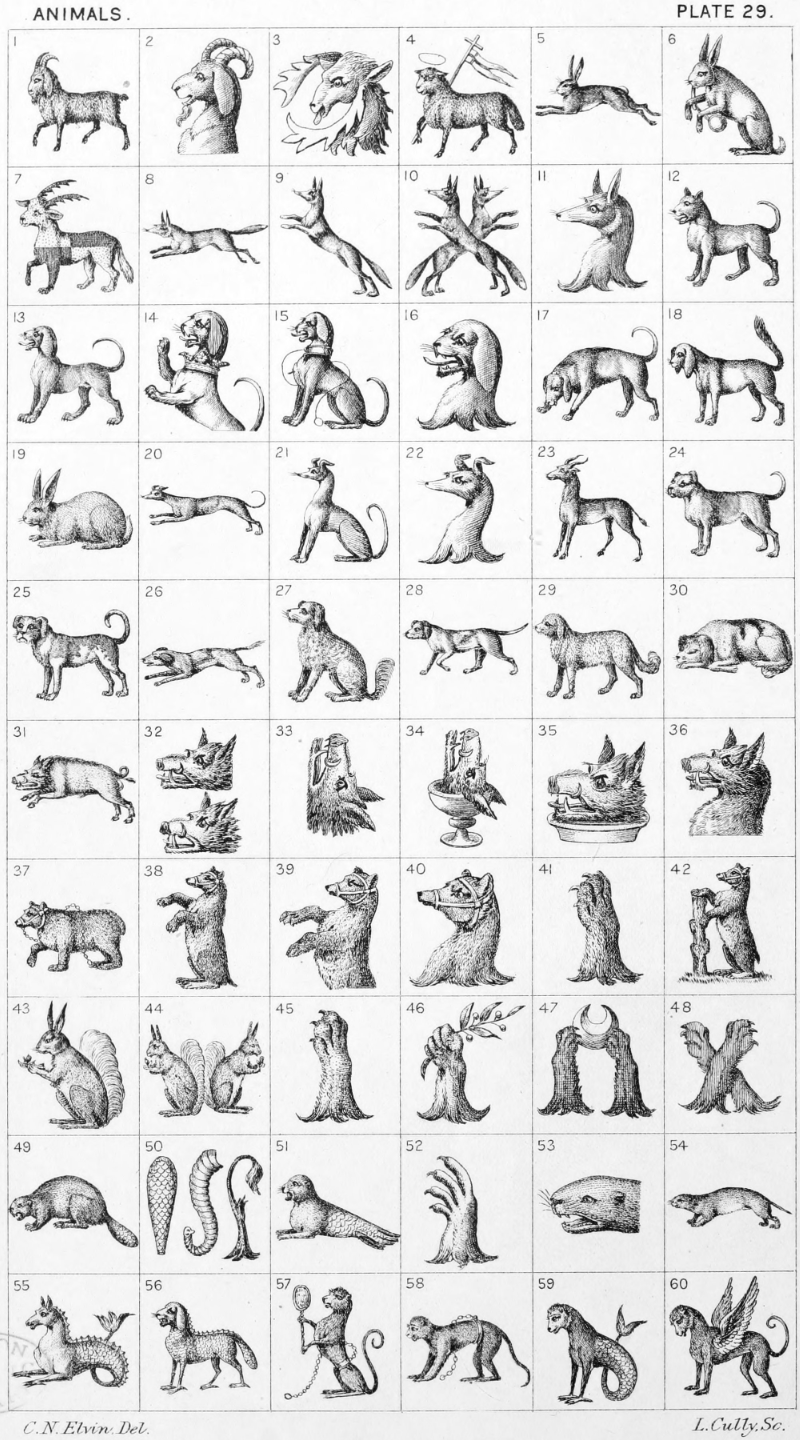 Plate 29.
Indian, or Assyrian Goat, passant
Indian Goat's head couped
Trogodice's head erased. Lambard
"Holy, or Paschal Lamb
Hare in full course. See Courant
Hare sejant playing upon the bagpipes. Fitz-Ercald
Calopus, or Chatloup pass, quarterly or. and sa. horned of the last. Foljambe
Fox courant
Fox saliant
Two Foxes counter-saliant
Foxe's head erased
Alant statant
Talbot statant
Demi Talbot, ramp. ar. eared gu., gorged with a ducal coronet or. Southwell
Talbot sejant, collared and lined
Talbot's head erased
Bloodhound on scent
Bloodhound statant
Rabbit
Greyhound courant
Greyhound sejant
Greyhound's head erased
Spring-Bok statant
Bull Dog statant
Mastiff
Beagle courant
Spaniel sejant
Pointer
Newfoundland dog
Dog-sleeping. Robertson
Boar courant
Boar's head couped
Boar's head erased
Boar's head erect and erased. Loftus
Boar's head erect in a cup
Boar's head erased in a dish
Boar's head and neck couped
Bear pass, muzzled and chained
Bear sejant
Demi Bear ramp.
Bear's head erased
Bear's Gamb erased
Bear and ragged-staff
Squirrel sejant holding a nut
Two Squirrels sejant addorsed
Lion's Gamb erect and erased or. Goldingham
Lion's Gamb holding a laurel branch fructed ppr. Flint
Two Lion's Gambs sa. supporting a Crescent ar. Leche
Two Lion's Gambs in saltire gu. Dobson
Beaver <
> Beaver's tail
Proboscis
Lion's Tail. Three lions' tails erect, erased borne by the family of Cork
Seal
Seal's-paw
Otter's head couped
Otter
Sea-Horse
Sea-Dog
Monkey, or Ape admiring himself in a mirror ppr. also blazoned a monkey sejant enceppe admiring himself in a looking-glass
Monkey passant
Sea-Monkey
Winged-Monkey, or Ape Winged
Please Help!
DrawShield is a Free service supported by its users.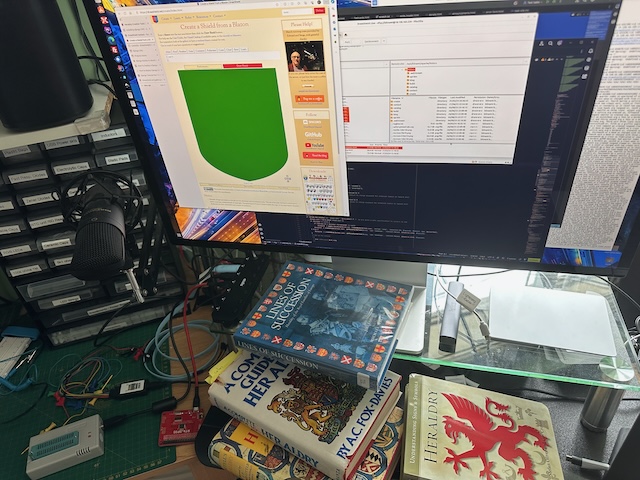 If you can, please help cover the cost of the server, or just buy the team a coffee to say thanks!
Buy me a coffee
Test Me