Plate 30.
Plate 30.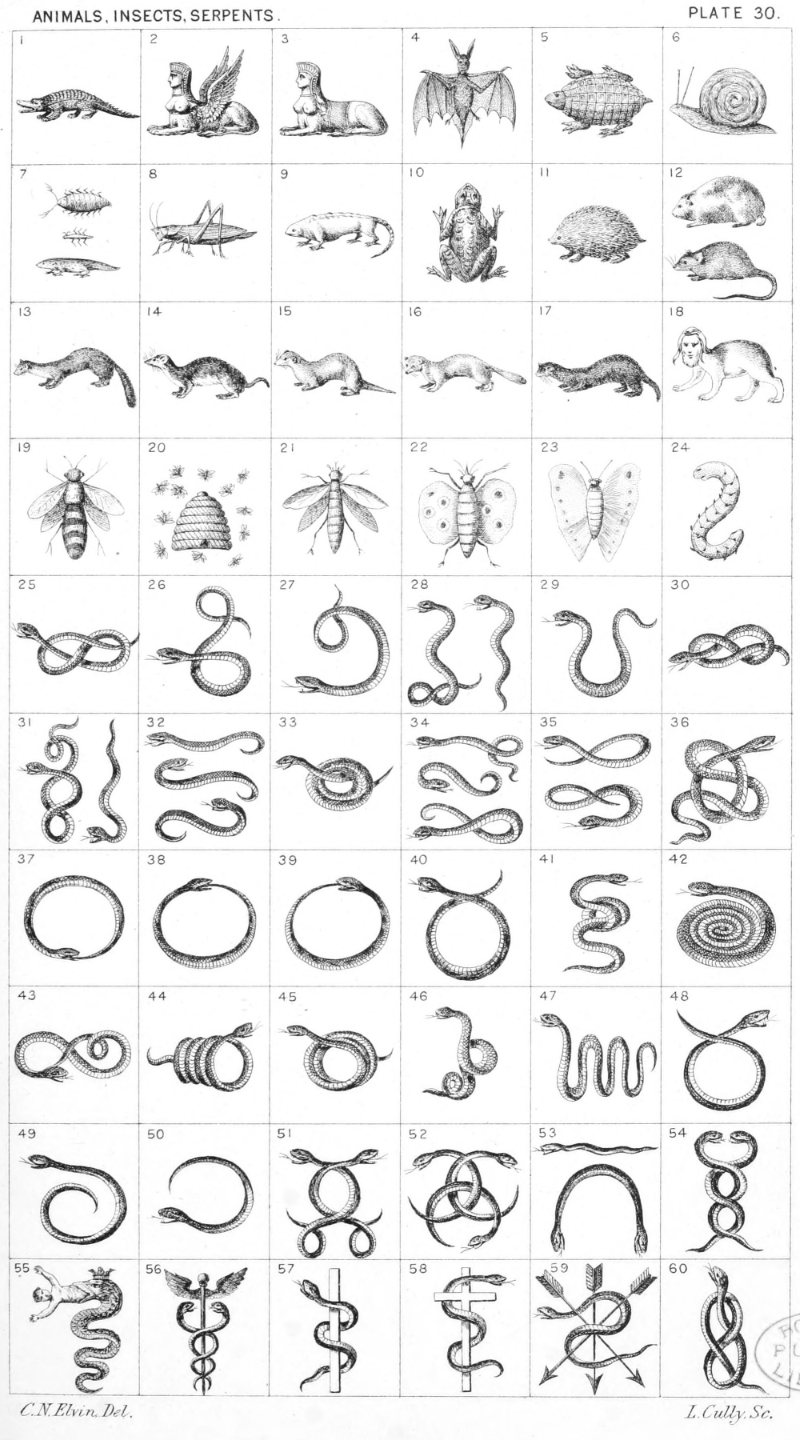 Plate 30.
Crocodile
Sphinx couchant with wings
Sphinx couchant sans wings
Bat, or Rere-mouse
Tortoise
Snail, or House Snail
Cheese-slip, or wood-louse ; Ant ; and Asker
Grasshopper
Cameleon
Toad
Hedge-hog
Guinea-pig; and Rat
Martin
Weasel
Ferret
Ermine
Polecat
War, Weir, or Man-Wolfe
Bee
Bee-hive wnth Bees diversely volant
Gad Bee, or Fly
Harvest Fly
Butterfly, or Fly
Palmer, or Palm-worm
Serpent nowed, nodée, or fretted in the form of a knot
Bowed debruised and counter-embowed debruised tail erect, embowed, debruised
Serpent targent the tail wreathed. Torqued erect in pale, or erect wavy
Serpent head and tail elevated and bowed
Serpent nowed reversed
Serpent wreathed tail embowed debruised.
Serpent Tail erect and torqued
Serpent gliding tail embowed. Reguardant tail embowed. Reversed head reguardant and tail embowed
Serpent bowed embowed, or enwrapped debruised
Serpent embowed debruised torqued. Reguardant, recurvant, reverted the tail embowed. Reversed boAved, debruised and embowed
Serpent embowed, debruised, tail reversed. Head reversed, reguardant tail embowed
Serpent double nowed
Serpent Serpent reversed embowed biting his tail, head to sinister
Serpent embowed biting his tail, head to sinister
Serpent embowed biting his tail, head to dexter
Serpent embowed head debruised
Serpent bowed knotted, debruised and torqued
Serpent or snake coiled, intortant, wreathed, or wound inwards
Serpent stopping his ear with his tail
Serpent Trochleated, or enwrapped round in the form of a screw, the head elevated
Serpent bowed-embowed debruised with the head
Serpent Asp
Serpent gliding, or waved in fesse
Serpent bowed embowed, the head debruised, or bowed debruised the tail surmounting
Serpent bowed embowed, encircled, enwrapped, involved, or voluted
Serpent bowed with the tail elevated
Serpent two embowed, endorsed and fretted, or two fretted, tail debruised
Serpent three embowed and fretted, in triangle
Serpent extended, gliding, or creeping also termed a Boa-Serpent. Enarched with head at both ends
Serpent interlaced respecting each other
Serpent Torqued erect, crowned, devouring an infant
Caduceus, or Mercury's Mace also termed Snaky-Staff
Rod of Esculapius
Serpent torqued, fretted with a long cross, or a cross environed, enwrapped, or entwined with a Serpent ; sometimes blazoned the Cross of Christ supporting the Brazen-Serpent
Three arrows one in pale and two in saltier points downwards, entwined by a Serpent ppr.
Serpent nowed in pale
Please Help!
DrawShield is a Free service supported by its users.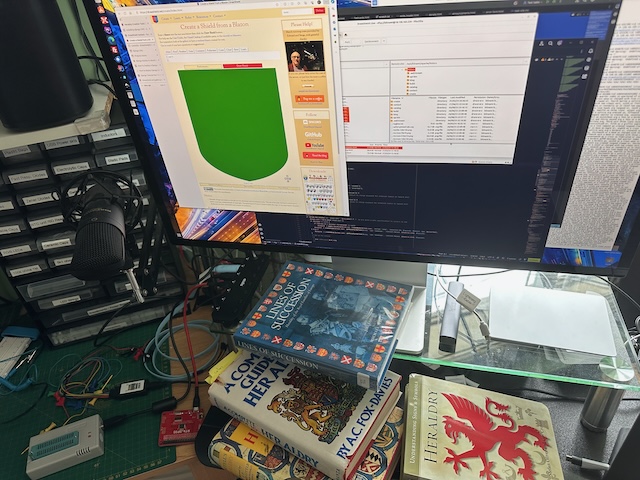 If you can, please help cover the cost of the server, or just buy the team a coffee to say thanks!
Buy me a coffee
Test Me