Plate 31.
Plate 31.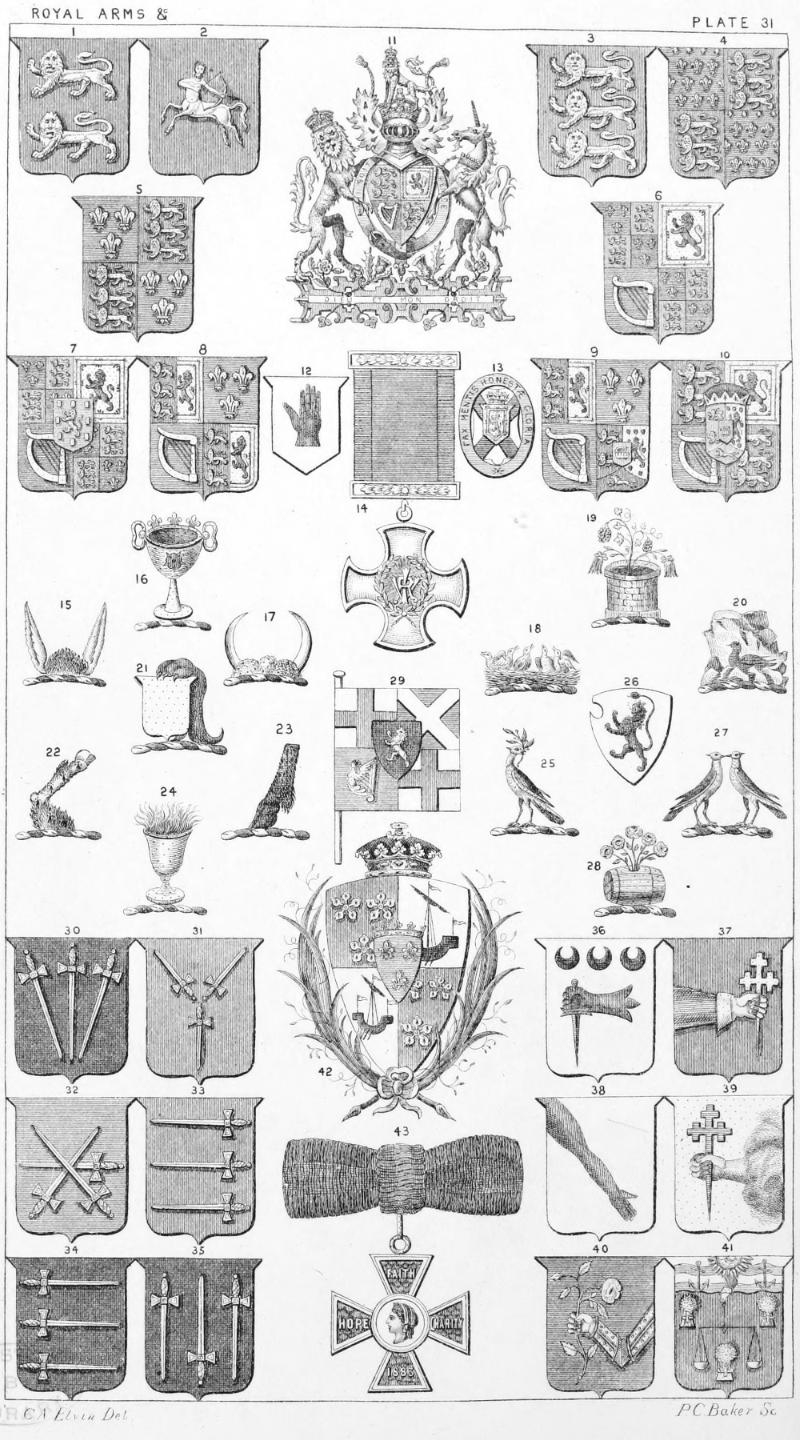 Plate 31.
House of Normandy : William I., 1066. William II., 1087. Henry I., 1100
Stephen, 1135. The shield is also described as Gu. three Sagittarii reguardant in pale or.
House of Plantagenet: Hen. II., 1154. Richard I., 1 189. John, 1199. Hen. III., 1216. Edw. I., 1272. Edw. II., 1307 (The same for Edw. III., until 1340. After this date as No. 4.)
Edward III., 1327. Richard II., 1377
House of Lancaster : Hen. IV., 1399.
Henry V., 1413. Henry VI., 1422
House of York : Edw. IV., 1461. Edw. V., proclaimed King 1483, never crowned. Richard III., 1483
House of Tudor : Hen. VII., 1485. Hen. VIII., 1509. Edw. VI., 1547. Mary I., 1553. Elizabeth, 1558
House of Stuart: James I., 1603. Charles I., 1625. (Commonwealth declared May 19, 1649, Ensign No. 29). Charles II., 1660. James II., 1685
William III. and Mary II., 1689
Anne, 1702, as No. 6, before the Union with Scotland. After the Union, May i, 1707, as No. 8
House of Hanover (Guelph) Geo. I., 1714. Geo. II., 1727. The same for Geo. III., until Jan. 1, 1801, after this date as No. 10
George III., 1760 The Escutcheon en surtout is ensigned with the Electoral bonnet ; but since June 8, 1816, when the Electorate of Hanover was elevated to the rank of a Kingdom, the Hanoverian regal crown as P. 25, f. 25 was substituted for the Electorate bonnet. George IV., 1820. William IV., 1830
Victoria, 1837
Badge of Ulster. The Baronet's Badge
Badge of Nova-Scotia, or Scotch Baronets
Badge and ribbon of the Distinguished Service Order. The ribbon is red, edged blue
Scalp of a hare, ears erect ppr. Crest of Dymock
A Drinking-cup or, with three fleur-de-lis of the same issuing therefrom, and charged with a rose gu. This is also termed a flower-pot. Crest of Croker
Bull's scalp or., horned ar. Crest of Cheney
A nest of young ravens ppr. Crest of Drummond, Knevet, etc.
Out of a well or., a vine and two columbine branches ppr. Goldwell
A Cornish chough hatching in the face of a rock ppr. Cornwall
A Lion's gamb. erased erect gu. supporting a shield or. Watts
A Bull's leg, embowed couped at the thigh erm. hoof upwards. Vachell
An Ox's foot couped sa. Delafield
A cup or., inflamed ppr. Lucas
A Dove reguardant with olive branch all ppr. Crest of Wiggett, of Guist
Ar. a Lion ramp, sa., Queve Renowned, i.e. the tail raised over the head. Buxton
Two Doves billing, or respecting ppr. Couran
A Tun or., issuing from the bung hole five roses of the same, stalked and leaved ppr. Cervington
The Banner of the Commonwealth containing the Cross of St. George for England. St. Andrew's Cross for Scotland, and the Harp for Ireland, with the Arms of Cromwell Sur-le-tout, viz. : sa. a Lion ramp. ar.
Sa. three swords in pile, points downwards ar. hilted and pommelled or. Paulet
Gu. three swords in pairle pommels conjoined in fesse point ar. This may be blazoned gu. three swords conjoined at the pommels in centre their points extended to the corners of the Escutcheon. Stapleton
Az. three swords one in fesse point to the dexter, surmounted of the other two in saltire points upwards ar. Ewart
Gu. three swords barwise in pale. their points towards the dexter, hilted and pommelled or. Chute
Gu. three swords barwise in pale, points to the sinister hilts and pommels or. Rawlyns
Sa. three swords paleways ar. two with their points in base, and the middle one in chief. Rawlings. At P. 9, f. 21. Az. three swords, one in pale point upwards, surmounted of the other two in saltire points downwards ar., hilts and pommels or, Norton, of Toft wood, E. Dereham, Norfolk, and Rickinghall, Suffolk
Ar. a dexter hand erased fesseways gu., holding a dagger point down- wards az. in chief three crescents sa. M'Clure
Gu. issuing from the dexter side of the shield a cubit sinister arm vested az., cuffed or, in the hand ppr. a cross-crosslet fitchee in pale of the third. O'Donell
Ar. an arm sinister in bend issuing from dexter chief point gu. Cornhill
Or. a dexter arm issuing from the sinister fesse point out of clouds ppr. in the hand a cross crosslet fitchée in pale az. Mac Donnell
Az. an armed arm embowed or, issuing from the sinister, holding in the hand ppr. a rose gu. stalked and leaved vert, Chambre
Gu, a balance betw. three garbs or., on a chief barry wavy of four ar. and az., an arm embowed vested of the first cuff gold, issuing from clouds affixed to the upper part of the centre of the chief of the third, radiated of the second, betw. two anchors, also of the second. The Bakers' Company
The Shield of the Duke of Abercorn. Quarterly ist and 4th gu., three cinquefoils pierced erm. for Hamilton. 2nd and 3rd, ar. a lymphad with sails furled and oars sa. for Earls of Arran. En surcoat an inescutcheon az. charged with three fleur-de-lis or, surmounted by a French ducal coronet, for the Duchy of Chatelherault. See also term Entoured
The Decoration of the Royal Red Cross
Please Help!
DrawShield is a Free service supported by its users.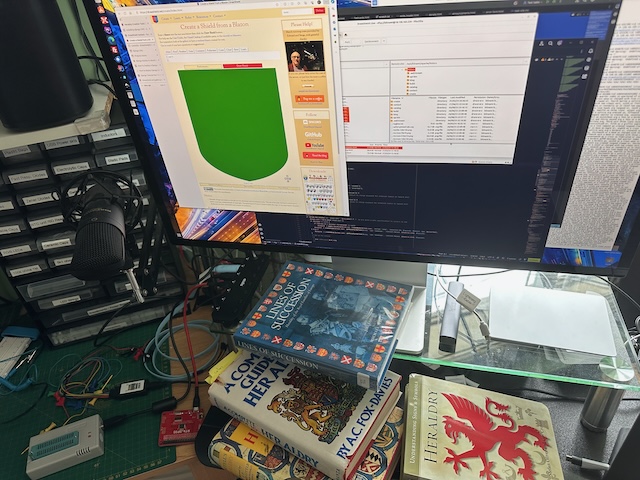 If you can, please help cover the cost of the server, or just buy the team a coffee to say thanks!
Buy me a coffee
Test Me