Plate 5.
Plate 5.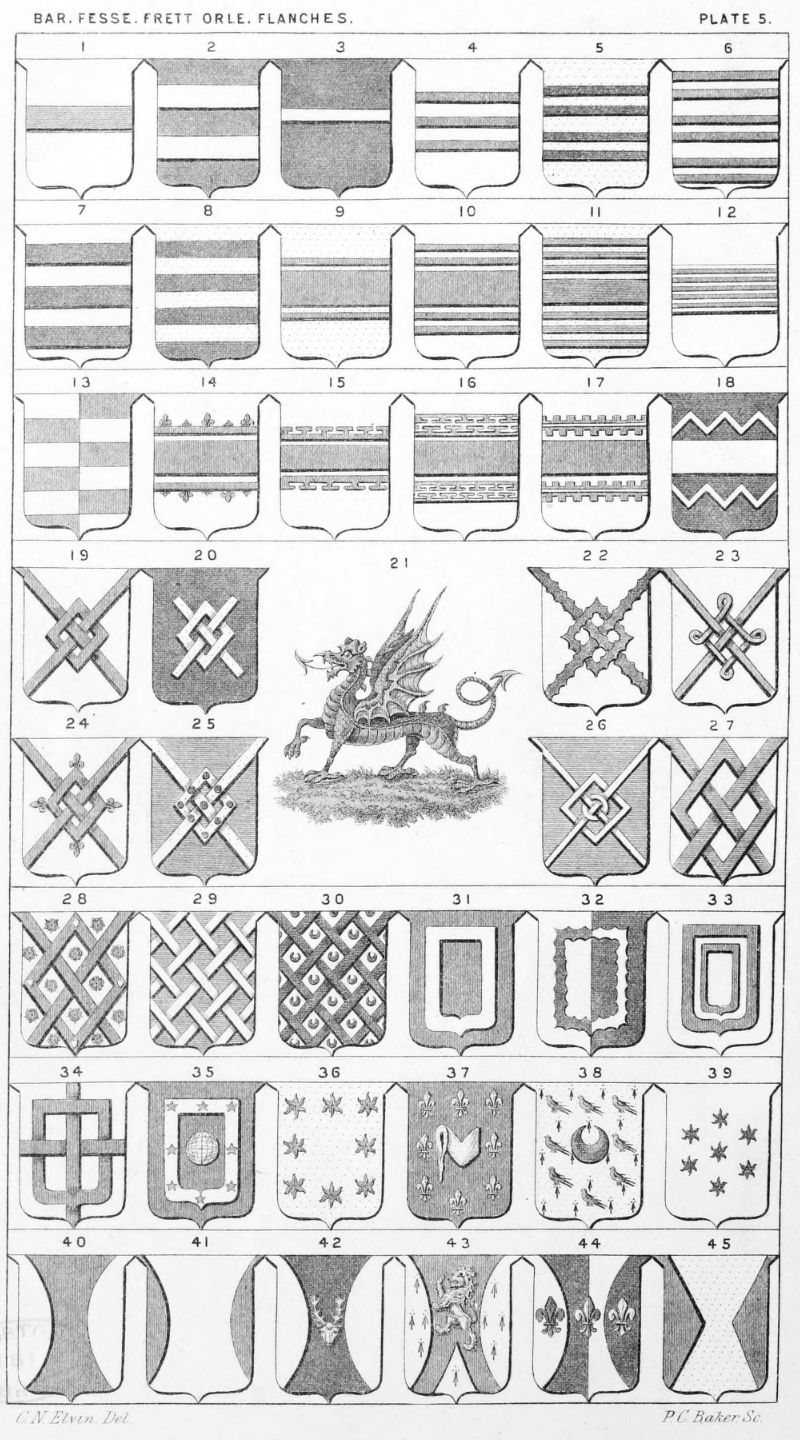 Plate 5.
Bar. Ar. a Bar az.
Two Bars. Sa. two bars ar. arms of Brereton
Barrulet
Three Closets
Two Bars gemels
Three Bars gemels
Three Bars
Barry of eight
A Fesse cottised
A Fesse double cottised
Fesse treble cottised
Fesse charged with five music bars
Barry of six per-pale countercharged
Fesse betw. two cottises fleury
Fesse cottised potentee
Fesse double cottised potent, counter-potent
Fesse betw. two bars geraelle, embattled
Fesse cottised-dancettee
A Fret
Fret couped
The Badge of Wales. A Dragon pass., wings elevated endorsed gu. upon a mount vert.
Fret engrailed. (For Triangular Frets see P. 42. f. 38.)
Fesse fretted, or double fretted
Fesse fleury at each point
Fesse charged on each point with a pellet
Fesse interlaced with an annulet
Fesse throughout
Ar. on a Fret throughout gu. a rose in every interstice of the second, barbed vert., four hearts of the first. Gardiner
Fretty
Ar. Fretty sa. and semee of crescents of the second, or Ar. fretty sa. in each interstice a crescent of the last
An Orle
Per-Pale ar. and sa. an orle engrailed on both sides countercharged
A Double Orle, or an Orle of two pieces. (For Orle of three pieces see P. 22, f. 25)
An Orle fretted with a pallet and barrulet
Gu. within an Orle ar. charged with eight mullets az. an armillary sphere or. Chamberlain
An Orle of eight estoiles. See Orle in Dictionary
Az. a Manche, or Maunch within an Orle of Fleur-de-lis or.
Erminois a crescent sa. within an Orle of Matlets gu. Roskell
Seven estoiles, or stars in orbicular form
Two Flasques, or Flanches
Two Voiders
Sa. a Stag's head cabosed betw. two Flanches ar. Parker
Gu. a lion ramp, or betw. two flanches erm. and a point in point of the last
Per-Pale sa. and ar. a Fleur-de-lis betw. two flanches, each charged with a Fleur-de-lis, all counter-charged. Also blazoned Per-Pale sa. and ar. two flanches and three Fleur-de-lis in fesse all countercharged. Robyns and White
Two square Flanches
Please Help!
DrawShield is a Free service supported by its users.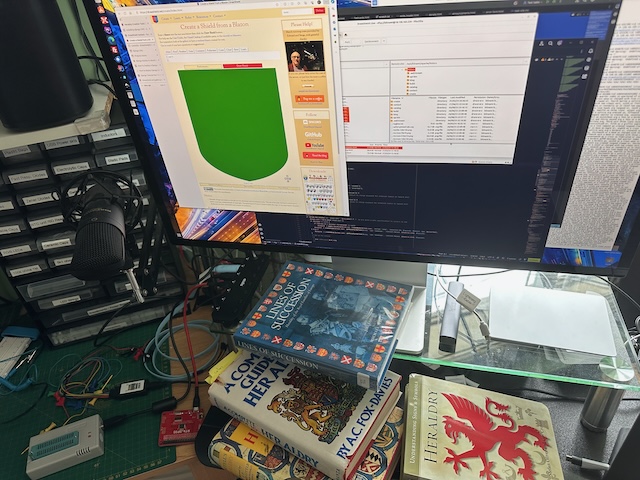 If you can, please help cover the cost of the server, or just buy the team a coffee to say thanks!
Buy me a coffee
Test Me