Arrow
Arrow

Arrow, (fr. flêche): the ordinary position of an arrow is in pale, with the point downward, that is, falling(fr. tombante), but to prevent the possibility of a mistake, it would be better always to mention it, because in French coats they are more frequently the other way. When represented as rising, it should be stated "with point upwards," &c. Arrows appear blazoned as barbed(fr. ferré) or armed(fr. armé) of the tincture of their points, and flighted or feathered(fr. empenné) of that of their feathers; also notched(or nooked) (fr. encoché) of the tincture of the end which rests on the bowstring. The tincture given is that of the shaft, but with French heralds it is sometimes named as shafted(fr. futé) of such a tincture.
Vert, an arrow in pale, point downwards, or, barbed and feathered argent--STANDARD, Oxfordsh. [A particular arrow was called a standard, and hence this is a canting coat.]

Gules, two arrows in saltire argent, over all a fess chequy of the second and first--MACAULAY.

Argent, two arrows in saltire, points upward azure between four 5-foils of the last--JAMESON.

Per pale embattled gules and azure an arrow in bend or, barbed and feathered argent, point upward--CUGLER, Hertfordshire.

Gules, three arrows double pointed or--HALES.
When arrows are in bundles such bundles are called sheaves of arrows(the number and position being in some cases mentioned).
Gules, three bundles of as many arrows argent--BYEST, Salop.

Gules, three sheaves of arrows points upwards argent--JOSKYN.

Gules, three bundles of as many arrows, two in saltire and one in pale or, feathered headed, and tied in the middle with a string argent--BESTE.
A bird-bolt again differs, not being barbed as an ordinary arrow: it may be described as a blunt-headed arrow used to shoot birds, and shot from a cross-bow. An old French word, 'boson,' also occurs, which appears to mean the same.


Argent, three cross-bows bent, each loaded with a three-headed bird-bolt sable; a chief vert--SEARCHFIELD, Bp. of Bristol, 1619.

Argent, three bird-bolts gules, headed and feathered or--BUSSHAM, Lincolnshire.

Argent, three bird-bolts in fess gules--BOLTON.

Argent, three bird-bolts in pile gules--BOUZUN.

Argent, three bird-bolts gules, headed or, and feathered of the first--BOWMAN, Norfolk.

Or, three bird-bolts gules, nooked and pointed of the first; a label gules--BEARUM.

Sire Peres BOSOUN de argent a iij bosons de gules--Roll, temp. Hen. III.
A broad arrow differs somewhat, perhaps, from the above in the head, and resembles a pheon(q.v.), except in the omission of the jagged edge on the inside of the barbs. By the term broad arrow, the head alone is meant. The bolt and the quarrel were shorter arrows, used with the cross-bow.
Argent, three broad arrows azure--HALES, Stafford.

Gules, a broad arrow between two wings argent--ZINGELL.

Argent, three bolts in pale gules--BOLTSHAM, Devon.

Gules, three quarrels argent--BAGGSHAM.

Arrows are also borne by the families of ARCHARD, HYAM, ZINGEL, TINGEWICK, FLOYER, FORSTER, and many others.
Please Help!
DrawShield is a Free service supported by its users.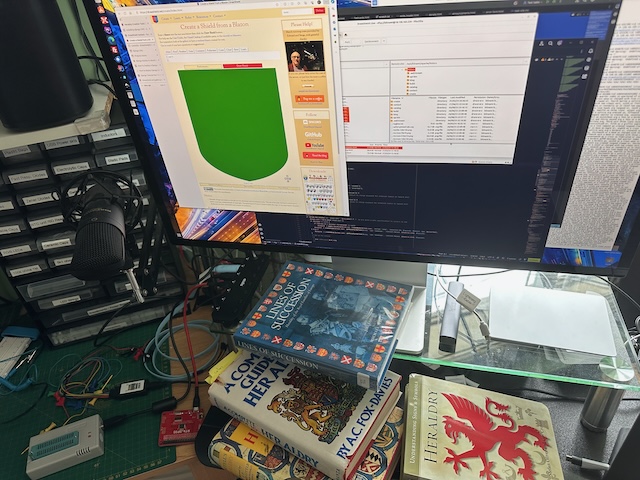 If you can, please help cover the cost of the server, or just buy the team a coffee to say thanks! All donations are greatly appreciated.
Buy me a coffee
Test Me