Castle
Castle

Castle, (fr. chateau): the word castle used alone generally signifies either a single Tower, q.v. or two towers with a gate between them. A castle triple-towered is represented in the ensign of the kingdom of CASTILE, and is frequently found quartered in the arms of Queen Eleanor. The illustration is from glass still existing in Dorchester Church, Oxon.
Argent, a lion rampant sable, quartering gules, a castle triple-towered or--CASTILE and LEON.

Gules, three castles triple-towered within the royal tressure argent--Burgh of ABERDEEN.

Sable, a castle triple-towered or--TOWERS, Bp. of Peterborough, 1639-49.
Amongst other varieties which occur, are triangular and quadrangular castles; castles seen in perspective, and castles extending quite across the field. Castles are also described as domed, turreted(fr. donjonné), embattled, breached, &c., and it is not uncommon to describe in detail towers, gates, loopholes, windows, vanes, portcullises, and the like. Where the masonry is shewn by the addition of lines the term masoned is used. The windows and doors are sometimes represented as of a different tincture, and then are supposed to be closed; and the same if they are of that of the castle itself; but if of the tincture of the field they are supposed to be open, and the term ajouré might be used. Coulissé signifies that the portcullis is down.
Sable, two bars between three castles masoned or--CLEAVER, Bp. of Chester, 1788; of Bangor, 1800; and S.Asaph, 1806-15.

Gules, a castle towered and domed argent, masoned sable; on the dome a flag--Town of BARNSTAPLE, Devon.

Sable, a castle with towers turreted in perspective argent standing in water wavy azure and argent--CASTLEFORD.

Per fesse azure and argent; in base on a rock a castle breached, the Indian colours struck and flag-staff proper; in chief two eagles rising or--STIBBERT, London(1768).

Argent, a castle(or tower) triple-towered sable, chained transverse the port or--OLDCASTLE, Kent.

Per fesse vert and gules, in base a lion passant guardant on; in chief a quadrangle of castles walled argent--Town of LANCASTER.

Argent, on a rock proper a castle triple-towered and embattled sable, masoned of the first, and topped with three vanes gules, windows and portcullis shut of the last--City of EDINBURGH.
Sometimes the terms Fort, Fortress, Citadel, &c., are used. The Castle, too, may be surrounded with a fortification.
Argent, on a fesse azure, between two Cornish Choughs proper in chief, and in base a lion passant gules crowned or, a fort of the field--GARSTON.

Vert, on a chevron embattled ... &c.; a chief charged with the gates and fortress of Seringapatam proper--HARRIS, Baron Harris, 1815.

Per chevron azure and argent .... and on a chief silver the fortress of Khelat; a canton charged with the Dooranee badge--WILTSHIRE, 1840.

Per chevron vert and argent; on a chevron or between, in chief two castles of the second, in base another surrounded by a fortification proper, three torteaux--GREEN, Kent, Baronetcy, 1786.
In connection with the Castle the Barbican(that is to say the advanced work) is described in some insignia, and the projecting turrets overhanging the embattled wall, called Bartizans, in others. Other additions are occasionally named, e.g. a trench, or the castle, may be standing in water or surrounded by a wall.
Gules, two barbican of a castle having loopholes, gate, and portcullis, with two pointed side tower; on each of the latter a pennon waving argent, and ensigned on the centre of the battlement by a royal coronet or--Town of DONCASTER.

Gules, out of water in base, on embattled wall enclosing a castle with three gables from the embattled parapet, a piece of tapestry hung along the front between the bartizans and displaying three shields[shields described] ... Town of NEWCASTLE-UNDER-LYNE.

The badge of Jane Seymour, third queen of Henry VIII., blazoned upon a grant of lands made to her in 1536, presents a good example of a castle. The tincture are as follows:--
The walls argent, the ground vert, the tree of the same fructed gules, the phœ"nix or, in flames proper, and the roses alternately white and red.
Castles occur rarely in the old rolls of arms.
Monsire de GRANSON pale d'argent et d'azure de vi. piéces, a chastelez d'or en une bend gules--Roll, temp. ED. III.
The Castle is borne very frequently in the insignia of cities and towns, with other charges; of these insignia, however, the evidence is often only derived from the seal. The following may be named, but the list might probably be extended.
ABERDEEN; BARNSTAPLE; BEDFORD; BERKHAMSTEAD, (Hertford); BISHOPS CASTLE, (Salop); BOSNEY, (Cornwall); BRIDPORT; BRIDGEWATER, (Somerset), BRIDGENORTH, (Salop); BRISTOL; CARDIGAN; CARLISLE; CARMARTHEN; CLITHERO, (Lancashire); CORFE, (Dorset); DENBIGH; DEVIZES; DONCASTER; DORCHESTER, (Dorset); DUBLIN; DUNBAR; EDINBURGH; EXETER; FORFAR, (Scotland); GUILDFORD, (Surrey); HAVERFORDWEST; KINGHORN, (Scotland); KNARESBOROUGH; LANCASTER; LAUNCESTON, (Cornwall), LINCOLN, LUDGERSHALL; MALMESBURY; NEWBURY; NEWCASTLE under Lyne; NEWCASTLE under Tyne, (three); NORTHAMPTON; NORWICH; ORFORD; PEMBROKE; PLYMOUTH; PONTEFRACT; QUEENBORO'; SAFFRON WALDEN; STAFFORD; TAUNTON; TEWKESBURY; THETFORD; TIVERTON; WARWICK; WINCHESTER(five); WORCESTER; YARMOUTH, (Hants).
Please Help!
DrawShield is a Free service supported by its users.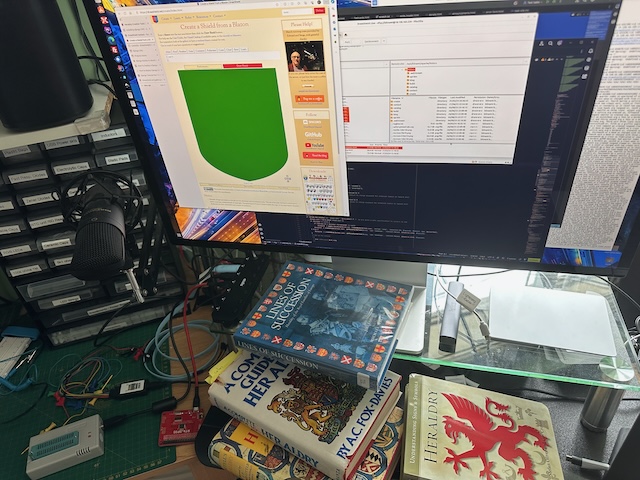 If you can, please help cover the cost of the server, or just buy the team a coffee to say thanks!
Buy me a coffee
Test Me