Ewer
Ewer


Ewer, or laver-pot, (fr. aiguierre, also burette): this and similar charges, such as jug, and beaker, are variously represented. The laver-pot in the FOUNDERS' Company is represented as below, but the more ordinary form is that given in the margin. The handle(fr. corniere) should be sinister, and the lip dexter. This charge does not appear to be represented in any of the ancient rolls of arms by name, but perhaps some of the ancient pots, q.v., were represented like pitchers. The term flagon also occurs(fr. flacon probably answers to the same).
Azure, on a chief or between two ewers[or beakers] in chief, and a three-legged pot with two handles in base, of the second three roses gules seeded gold, barbed vert--Company of BRAZIERS, incorporated temp. HEN. VI.

Azure, a laver-pot between two taper candlesticks or--FOUNDERS' Company[arms originally granted, 1590].

Gules, on a fesse wavy argent, between three pitchers double eared or, as many bees volant proper--CONDUITT, Westminster[granted 1717].

Sable, on a chevron ermine between three jugs argent, as many martlets of the first--WHITE.

Argent, three ewers gules--BLAND.

Argent, three water-pots covered gules within a bordure sable bezanty--MONBOUCHER.

Gules, three pitchers argent--CONDUIT.

Argent, a bend engrailed between six ewers sable--WOOD.

Argent, on a bend sable three ewers of the first--LEWER.

Sable, three ewers argent--BUTLER; also TOTEWHILL, Cornwall.

Sable, on a chevron ermine between three flagons, the two in chief with spouts argent, as many martlets gules--WHITE, Kent.
The old French pichier, the modern pitcher, is found as early as the roll of the Siege of Carlaverock, but it appears to be a solitary example, and the name of the bearer seems rather to suggest its connection with the water bouget.
    Le bon Bertram de MONTBOUCHIER,         En son escu de argent luisant       
    De goules, furent trois pichier         En le ourle noire le besant.        
                                              Roll of Carlaverock, A.D. 1300.   

Per bend gules and azure, a pitcher in bend or; on a chief of the last a beast's head erased between two mullets sable--WHEELER[Harl. MS., 1404; but probably meant for the arms of Wheeler, which are a fish-wheel in bend or, on a chief of the last a wolf's head erased sable between two ogresses].

Azure, a fesse ermine between three pitchers or--PITCHARD, co. Brecknock.
Ewers are borne by families of TODWELL, REGINALD, &c.
Please Help!
DrawShield is a Free service supported by its users.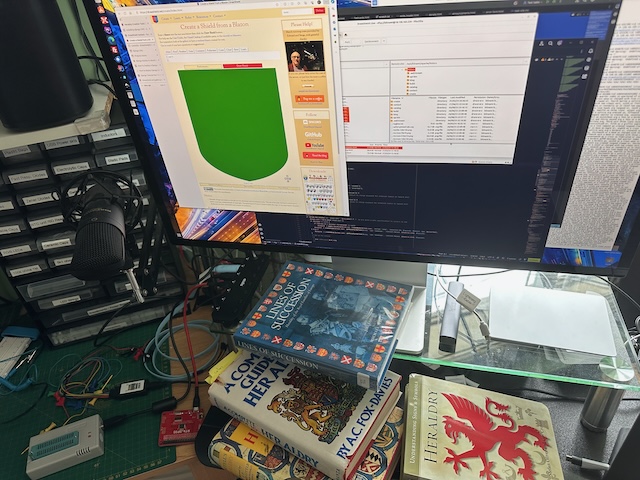 If you can, please help cover the cost of the server, or just buy the team a coffee to say thanks!
Buy me a coffee
Test Me