Fret
Fret


Fret: a charge consisting of two narrow bendlets placed in saltire, and interlaced with a mascle. It was been supposed to represent the meshes of a fishing-net. Being borne by the family of HARRINGTON it is found called a Harrington's knot; and riddle-makers see a connection between the Herring-town and the net. Whatever may be the origin, the term fret, or rather fretté, occurs frequently in the ancient rolls, but in many cases probably only a single fret is intended. When two or more frets are borne in the same arms they must be couped, unless each occupies an entire quarter.
Sable, a fret argent, charged with nine fleurs-de-lis gules--HARRINGTON of Honington Sibble, co. Essex.

Sable, a fret or--HARRINGTON, Essex.

Ermine, a fret gules in chief a lion passant guardant sable--HUDDLESTON, Upwell Hall, Cambridge.

Gules, three lions rampant or; on a chief of the second a fret of the first--JONES, co. Kent.

Or, a pale gules, in chief two frets and in base another counterchanged--BOAK.
    Du bon Hue le DESPENSIER ....                                               
    Fu la baniere esquartelée                                                   
    De une noir bastoun sur blanc getté                                         
    E de vermeil jaune fretté.--Roll of Carlaverock.                           

Aymer de ST.AMONT, d'argent frette de sable ung chef de sable--Roll, temp. HEN. III.

Sire Johan de HOORNE, de goules a une frette de veer--Roll, temp. ED. II.

Hue le DE SPENSER quartele d'argent et de goules, ung bend de sable; les quartres frette d'or en le goules--Roll, temp. HEN. III.

Sire Laurence de HAMELDENE de argent fretté de goules e les flures de or e les nowe de la frette--Roll, temp. ED. II.

Monsire TRUSSELL le Cousin, port d'argent, fret gules, les joyntures pomelles d'or--Roll, temp. ED. III.


Fretty, (fr. fretté): is now understood to mean a continuous fret, and forms a pattern for diapering the field, or some ordinary. Very many instances are found, and sometimes the points of junction are ornamented, at other the fret itself is charged with roundles, &c. The fr. treillissé is only to be distinguished from the fretté from the mesh being smaller.
Azure, fretty argent--CAVE, Kent.

Azure, fretty of eight pieces raguly or--BROADHURST.

Argent, a cross azure, fretty or--VERDON, Warwick. [See also under Cross, §3.]

Azure, fretty ermine--MELBORNE.

Sable, fretty or; flory argent--STOCKWOOD.

Argent, fretty gules; on the points thereof fleurs-de-lis or--HAMELDEN.

Argent, fretty gules; on each joint a bezant; all within a bordure azure--TRUSSELL.
Fretted, or interlaced, (fr. entrelacé): is also sometimes used when three or more charges are so placed that a portion of one overlaps and is itself overlapped by an adjoining one. An example will be seen of three fish fretted in triangle, under salmon, and of fillets interlaced under cross triparted, §8, and of chevrons under braced. All knots are more less interlaced, and annulets, serpents, &c., when there are more than two, are generally so. Even ordinaries are sometimes so represented.
Azure, eight arrows interlaced in bend dexter and sinister argent, headed and feathered or, fretting a bowstring in fesse of the second--Town of SHEFFIELD.

Argent, a fesse and chevron interlaced sable--KEMPSING, Kent.
Fret: a name applied to the wine-piercer.
Please Help!
DrawShield is a Free service supported by its users.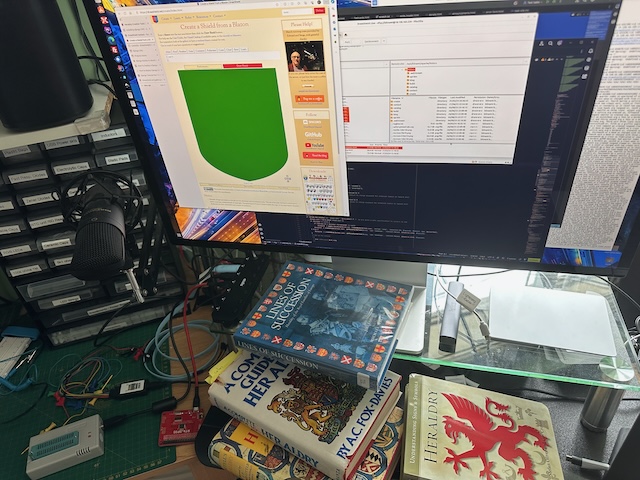 If you can, please help cover the cost of the server, or just buy the team a coffee to say thanks! All donations are greatly appreciated.
Buy me a coffee
Test Me