Man
Man
Man: although not found in early arms, in later arms the human figure is found represented in all varieties. The man in armour has already been noted as frequent, especially as a supporter: no less frequent is the Savage, or, as he is indifferently termed, the Wild-man, or Wood-man, a man wreathed about the head and loins with leaves, and generally carrying a club.
The man is frequently represented naked, or sometimes only vested round the loins, as in the case of the Savage. The Watchman, in the arms of the town of WARWICK, would be represented as a soldier. In the arms of the MINERS' COMPANY the miner is described(see Mine), but more minutely in the description of the supporters of the arms of that Company(see below). Men are also frequently referred to be their nationality, e.g. an African, a Negro(see under Cinnamon), a Moor, a Blackamoor, an Indian, a Beloochee Soldier, a Danish Warrior, &c., &c. A man may also be represented in various positions, e.g. in one coat hanging on a gallows. See under Armour, also under Head.
Azure, three woodmen[sometimes blazoned men of Kent] in fesse proper holding in their right hands clubs argent, in their left escutcheons of the second each charged with a cross gules--WOOD.

Sable, three bars or; on a canton gules a demi woodman holding a club over the dexter shoulder gold--WOOD, Devon.

Sable, a wild man holding a club argent--EMLAY, co. York; Harl. MS. 1404. fo. 154.

Argent, a savage shooting an arrow from a bow gules--BONNIMAN.

Per fesse azure and argent; on the first a demi-savage issuing wielding a wooden mallet proper; on the second three branches of oak vert--KIRKWOOD, Scotland.

The field a landscape, the base variegated with flowers, a man proper vester round his loins with linen argent, digging with a spade all of the first--GARDENERS' Company[Inc. 1616].

A castle triple towered, on the dexter side the sun in its glory, on the sinister a crescent, on the top of the two front towers a watchman--A Seal of the Town of WARWICK.

Argent, on a mount vert an African proper wreathed round the middle with feathers, holding in the dexter hand a bow, and in the sinister three arrows both of the third--ROUPELL, Chartham Park, East Grinstead, Sussex.

A man habited as in Indian, on his head a cap, in the dexter hand a long bow, in the sinister an arrow--Ancient Seal of Town of PORTPIGHAM or WEST LOOE, Cornwall.

Argent, goutty de sang, a Danish warrior armed with a battle-axe in the dexter and a sword in the sinister hand all proper--BLACKER, Carrickblacker, co. Armagh.

Per chevron azure and argent, six crosses patty four and two or; in base a Beloochee soldier habited and armed, brandishing a sword proper, mounted on a bay horse caparisoned; on a chief silver the fortress of Khelat; a canton charged with a Dooranee badge--WILTSHIRE, 1840.

Sable, a naked man with arms extended proper--DALZELL, Earl of Carnwath.

Sable, a naked man hanging on a gallows proper--DALZIEL.
As already said, the different varieties of men are more frequently exhibited in the supporters of coats of arms, a few examples, therefore, are here given, which speak for themselves: a remarkable one, viz. a student of the University of Oxford will have been noticed under Knitting-frame.
An armed man with a drawn sword--RALSTON.

Two men in armour--EYRE.

A European soldier of the 40th Bengal native infantry and a Bengal native artillery-man--Major-General KNOTT.

A Chinese Mandarin, and a Scinde soldier--POTTINGER.

Two Highlanders--MACKENZIE of Kilcoy, co. Ross.

Two Indians wreathed about the head and middle vert--JOHNSTON, Aberdeen.

Two savages wreathed about the loins and resting their exterior hands on clubs--SPOTTISWOOD, co. Berwick.

A miner, his face, legs, and arms of a brownish colour, vested in a frock argent tied above his knees as at work, cap and shoes of the last, holding in the dexter hand erect a hammer azure handled proper(for dexter supporter). Another miner proper, the cap, frock, and shoes argent, the frock loose and down to the ankles; in the sinister hand a fork azure handled proper(for sinister supporter)--Company of MINERS.

A Russian habited in the dress of the country(for dexter supporter). An Indian vester round the waist with feathers of various colours(for sinister supporter)--DISTILLERS' Company.
In French heraldry the homme d'armes, i.e. Man in Armour, occurs, but the variety of men does not seen to be so large, only Sauvage having been observed.
Please Help!
DrawShield is a Free service supported by its users.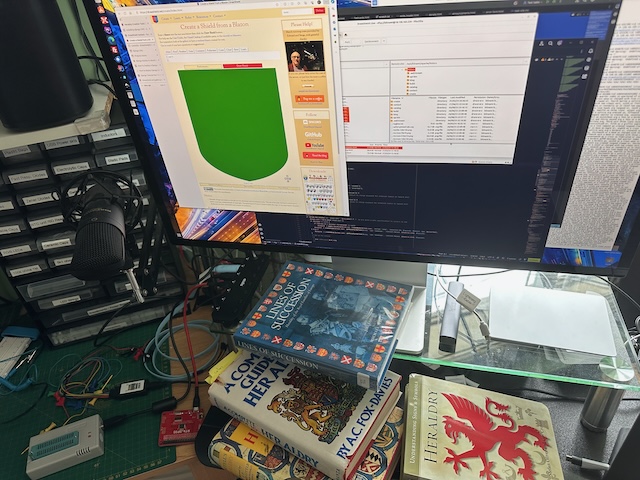 If you can, please help cover the cost of the server, or just buy the team a coffee to say thanks!
Buy me a coffee
Test Me