Motto
Motto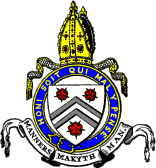 Motto: a word or sentence upon a scroll, generally placed below the shield, but sometimes, especially in Scotland, above the crest. The family motto should never be inscribed(as it too often is) upon a garter or circle, nor should it accompany the arms of any woman except the sovereign. In the case of William of WYKEHAM'S arms here given it will be seen the garter is reserved for the motto of the 'order.' His personal motto, adopted by his two colleges, is manners makyth man; and that it always found beneath. Bishops, as a rule, do not use mottoes.
Many ancient mottoes were war-cries. Such it is probable were the following:--
Forward. DOUGLAS, Duke of Queensbury. Crom a boo. (I will burn). FITZGERALD, Duke of Leinster. Courage sans peur. GAVE, Viscount Gage.
Many mottoes refer obviously to the name of the bearer, as--
Cavendo tutus--CAVENDISH. Per se valens--PERCEVAL. Pie repone te--PIERREPONTE, Earl Manvers. Scuto amoris divini--SCUDAMORE. Time Deum, cole regem--COLERIDGE.
Some have reference to a charge in the arms to which they are annexed, or to the crest above it, e.g.--
Soyes sage et simple--SPRY; the crest being: on a wreath a serpent nowed, thereon a dove.
But the generality of mottoes express a sentiment, hope, or determination. Such are the following:--
Dum spiro spero--DILLON. Garde la foy--COX, POULET, RICH, &c. Spero meliora--CORY. Toujours prest--CARMICHAEL.
Mottoes are often borne by several successive generations, but may be changed at pleasure. The languages most in use are Latin, French, and English; but in Scotland they are often in the old Lowland dialect, and in Wales, in the language of the principality. A few peers used Italian mottoes, and some recent ones are even in Oriental languages.
The present royal motto, Dieu et mon Droit, was certainly used as early as the reign of Henry VI. It was probably a war-cry long before, as King Richard I. is recorded to have said, "Not we, but God and our right have vanquished France at Gisors." The Cri de guerre of the kings of France was Mon joye Saint Denis. Scottish heralds term such war-cries Slogans or badly spelt Sloghorns.
Please Help!
DrawShield is a Free service supported by its users.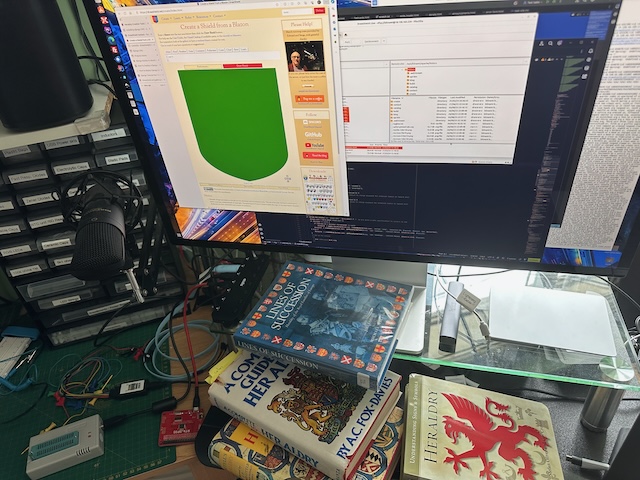 If you can, please help cover the cost of the server, or just buy the team a coffee to say thanks!
Buy me a coffee
Test Me