Pall
Pall
Pall, (fr. pairle, which is also occasionally used by English heralds):
1. As a charge it represents an ecclesiastical vestment known as the pallium, and symbolical of Archiepiscopal authority, e.g. the Pall was sent by Pope Gregory to Augustine in 601; see Beda, Bk. I. cap. 29. Also to Abp. Justus in 624; Ibid., Bk. II. cap. 8. In the East, however, it occurs as an episcopal ornament.
When borne as a charge, e.g. in the arms of archbishops, the lower end is always couped and fringed.

Azure, a pastoral staff in pale or, ensigned with a cross pattée argent surmounted by a pall of the last, edged and fringed of the second, charged with four crosses pattée fitchée sable--The Archiepiscopal See of CANTERBURY.

Impaled with argent, a chevron between three cinquefoils gules--Henry CHICHELEY, Archbishop of Canterbury, 1414-43.

Sable, a cross argent in the dexter chief the archiepiscopal pall proper--Benedictine Abbey of St.Augustin at CANTERBURY.

Argent, a bishop's pall sable; in chief a stag's head erased gules--CUNNINGHAME, Scotland.
Similar insignia to those borne by the See of CANTERBURY were formerly borne by the See of YORK, but with the field gules. Those of ARMAGH are the same as Canterbury, and those of DUBLIN have one more cross.
2. As a sub-ordinary the pall may be described as a figure of the shape of the letter Y.
All three arms are to be drawn throughout. The figure with the three arms couped and pointed would be blazoned as the Shakefork, q.v.
Argent, a pall sable; on a chief or, a dragon passant gules, between two chaplets of the last leaved vert--SHERIFFE, London, 1761.

A pall is but rarely subject to modification like the ordinaries. In one case it is reversed in another patonce. The term cross pall also occurs which cannot be a cross at all, but is supposed to mean merely the pall used as a subordinary, that is with the members drawn throughout.
Gules, a pall reversed ermine--KELVERDON, or KELDON, Essex.

Gules, a pall[ending in points] patonce between three estoiles argent--HARROLD.

Gules, a cross pall, argent--DEYCHETER, Germany.
The terms per pall and in pall also occur, but they are written with the French form per pairle and in pairle.
Per pairle reversed or gules and ermine over all a tau azure--LYLSEY, Harl. MS. 1386, fo. 66.

Gules, three swords in pairle hilts meeting in the centre argent--BRISAC.
Please Help!
DrawShield is a Free service supported by its users.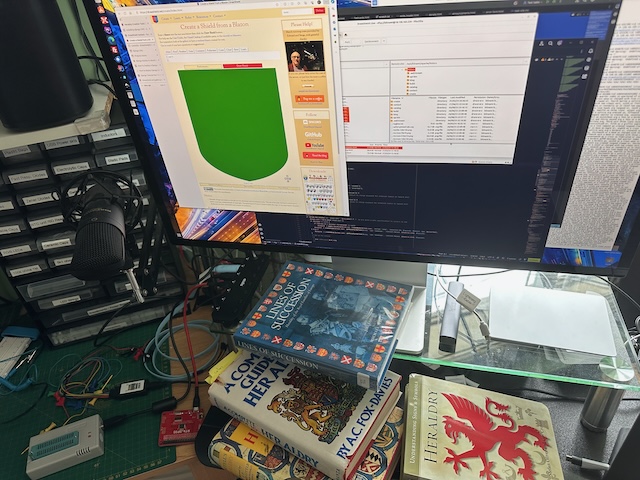 If you can, please help cover the cost of the server, or just buy the team a coffee to say thanks!
Buy me a coffee
Test Me