Trefoil
Trefoil
Trefoil, (fr. trèfle): the term 'iij foils,' i.e. 'trefoils' seems to occur in blazon as early as Edward II.'s reign; but whether the 'three leaves' were conjoined or separate there is no evidence to shew; the term may possibly afterwards have been adopted to represent the clover leaf.
The ordinary form is that shewn in the margin, but it is subject to variations. It is, however, always borne with a stalk, generally ending in a point, when the term slipped is used.



If however, the stalk is not represented as torn off(which the term slipped implies) it must be described as couped. A trefoil doubly slipped would be drawn as the first figure in the margin; but if raguly and couped, as the second figure. With French heralds the trèfle is distinguished from the tiercefeuille by the former having a stalk and the latter not.
Sir Edmon de ACRE, de goules, a les iij foilles[probably=semé of trefoils] de or e iij escalops de argent--Roll, temp. ED. II.

Sire Thomas FILOL, de or, a une fesse e ij chevrons de goules; en la fesse iij treyfoyls de argent.

Argent, three trefoils slipped sable--CHAMPION, Berks.

Or, a trefoil double slipped raguly proper[i.e. vert]--ASKERTON.

Gules, a chevron between three trefoils slipped raguly and couped or--NICOLL.

Argent, ten trefoils in pale[otherwise blazoned 4, 3, 2, and 1] slipped vert--Thomas TURTON, Bp. of Ely, 1845-63.

Per fesse sable and argent, in base two trefoils slipped of the first--RODD, co. Cornwall.

Argent, three trefoils slipped paleways in bend sinister azure--RAUNSTON.

Gules, three trefoils pierced argent--BACON, co. Suffolk.

Per chevron argent and sable, three trefoils slipped counterchanged--KNIGHT.

Sable, a trefoil or, charged with a German text r--LINNE, London.

D'or, a un trèfle de sinople vêtu de gueules[i.e. Or, on a lozenge throughout gules a trefoil vert]--BENTOUX, Gapençois.
With the trefoil may be classed the shamrock, i.e. the three-leaved clover, which is considered the badge of Ireland, being traditionally associated with S.Patrick, who is said to have adopted it as a symbol of the doctrine of the Trinity.
Gules, on a bend or three bald-coots sable beaked and legged of the first; in the dexter chief a key with a sprig of shamrock; in the sinister chief a unicorn's head erased gold holding a sprig of shamrock in the mouth proper--William MARSDEN Secretary to the Admiralty, temp. George III.

Azure, three hake fishes haurient in fesse argent; on a chief of the second three shamrocks proper--HACKETT, co. Carlow.
The Cross botonny, §14, is by some called treflée, and not inappropriately, but the former is the more usual term.
Please Help!
DrawShield is a Free service supported by its users.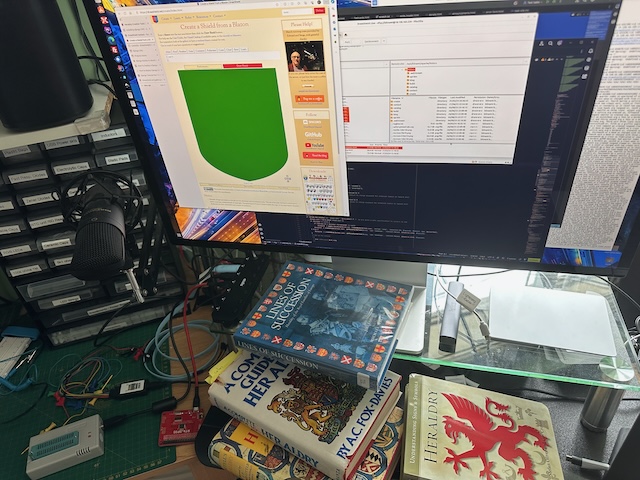 If you can, please help cover the cost of the server, or just buy the team a coffee to say thanks! All donations are greatly appreciated.
Buy me a coffee
Test Me