Voided
Voided
Voided, (fr. vidé): this term applied to ordinaries and subordinaries signifies that the middle is removed so that the field is visible through it; thus a plain chevron voided has the appearance of two couple-closes, and a bend voided that of a pair of cottises. Heralds, however, make some minute distinctions, and these will be found noticed under Chevron voided.
The voiding of certain ordinaries is of ancient practice. It will be observed that the cross 'recercelée' is sometimes blazoned 'voide' (See §32). So also 'faux crois' signifies a cross voided(see §6), while faux lozenge in one roll is used for a mascle, though the mascle itself is sometimes found blazoned voided. See Mascle and Masculy. Again, faux rondelets are found meaning annulets, (see under Roundels); and the 'faux escocheon' is now blazoned an orle. In some cases the term percée, or pierced, is used to mean the same as voided; and in others voided is used of a mullet when pierced is meant; but as a rule the piercing involves only a small aperture, and generally circular, while voiding involves a larger aperture, and one following the outline of the charge.
When the term is used by itself the tincture of the opening is understood to be that of the field, but an ordinary may be voided of another tincture.
Argent, a cross voided and double cottised sable, within a bordure or--BROMHOLME PRIORY, Norfolk.

Monsire Gerard SALVAYN, port d'argent; au cheif de sable deux molletts d'or, voydes vert--Roll, temp. ED. III.

Monsire GORNILL, port d'or; cheif sable, deux molletts d'argent, voydes de gules--Ibid.

Argent, two bars voided gules; over all a bend sable--BURTON.
Please Help!
DrawShield is a Free service supported by its users.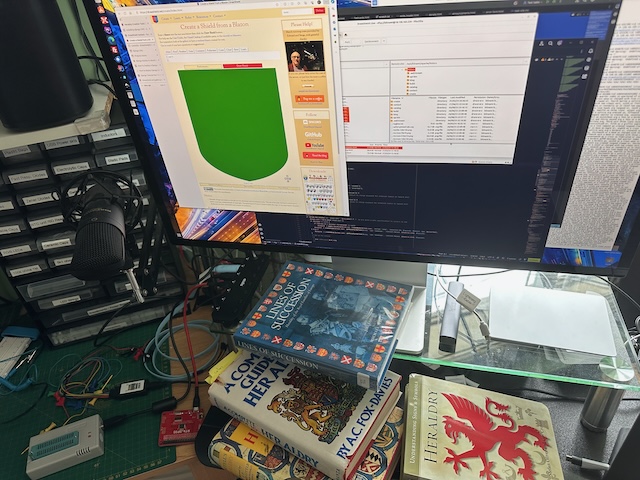 If you can, please help cover the cost of the server, or just buy the team a coffee to say thanks!
Buy me a coffee
Test Me