Cock
Cock
Cock(fr. coq), sometimes called barn-door cock or dunghill-cock, but as other species are always mentioned with some additional epithet, no such distinction is necessary. The game-cock is sometimes specially named, and so is the hen.
The Cock is found, though rarely, in ancient rolls of arms. And with the Cock should be grouped the Capon and the Cockerell(fr. coquerelle). It will be observed that in very many instances the charge is borne for the sake of the play upon the name of the bearer.
A cock with the comb of a different tincture may be blazoned crested or combed(fr. crêté) of such tincture; so also with the gills, or uncelles, when the term jellopped(written frequently jowlopped) or wattled(fr. barbé or barbelé) is used. Other terms are also found; armed(fr. armé or onglé); legged or membered(fr. membré); spurred(fr. éperonné); beaked(fr. becqué). With the French the term hardi is used when the right leg is raised; and in both English and French arms crowing(fr. chantant), when the beak is represented as open.

William de ESTOTEVILE de la Marche, burelé d'argent et de goulz a trois cockes noirs--Roll, temp. HEN. III.

Sire Richard de COKFELD, de azure a une crois e iiij coks de or--Roll, temp. ED. II.

Argent, three barn-door cocks crested and jowllopped sable--COCKAYNE[also borne by COCKBURNE, Scotland].

Gules, three barn-door cocks argent, armed, crested, and jowllopped or--COCK.

Azure, a dunghill-cock perched upon an escallop or--OTTERBURY.

Argent, a cock gules--CHEKE.

Azure, three cocks argent--CHANTICLEER, Cornwall.

Sable, three cocks or, membered gules--OVINGTON, Kent.

Argent, three cocks sable, armed, crested, and wattled or--POMFRET, 1730.

Argent, three game-cocks gules, crested and wattled sable--COCKMAN.

Argent, a fesse between three hens sable--AYLOFT.

Argent, three capons sable armed, crested, and jowllopped or--CAPONHURST.

Argent, on a chevron vert three cockerells of the first membered gules--CHICKERIN, Norwich.

Gules, a chevron between three cocks crowing argent--CROW, Suffolk.

D'argent, au coq hardi de sable, crêté becqué, barbé et membré de gueules--LE COCQ, Artois.

D'or, au coq chantant de gueules--LE COQ, de Bièville, Normandie.
The Cock's head is also frequently borne as a charge.
Argent, on a fesse between three cock's heads erased sable crested and jellopped gules a mitre or, all within a bordure of the third, charged with eight ducal coronets of the fourth--JESUS College, Cambridge.

Argent, on a fesse between three cock's heads erased sable, crested and jellopped gules, a mitre or--John ALCOCK, Bp. of Rochester, 1472; Bp. of Worcester, 1476; Bp. of Ely, 1486-1500.
Please Help!
DrawShield is a Free service supported by its users.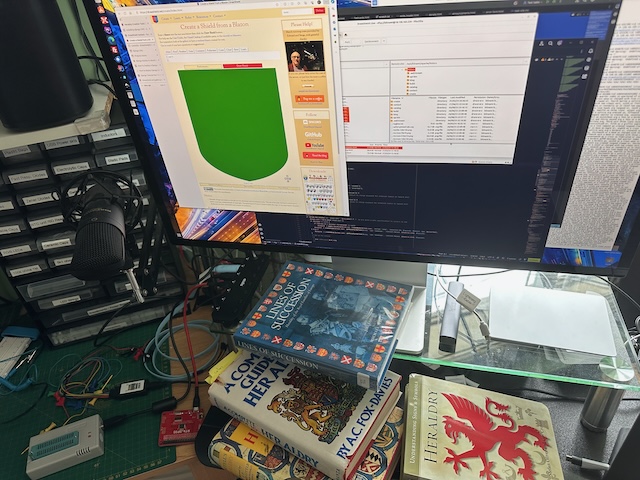 If you can, please help cover the cost of the server, or just buy the team a coffee to say thanks! All donations are greatly appreciated.
Buy me a coffee
Test Me