Cockatrice
Cockatrice
Cockatrice: amongst the monsters with wings the Cockatrice and the Wyvern(Sax. wivere, a serpent) are frequently represented in heraldry. The differ from the groups of Griffins and Dragons, inasmuch as they have only two legs, and the hinder part of the body ends in a large and long tail. The Cockatrice is represented as having the head of a cock, but the tongue extended and barbed. Otherwise it is very similar to the wyvern, the essential difference being that the wyvern has the head of a serpent, but with the tongue extended and barbed. The frequency of such devices was due, no doubt, to the tales of travellers brought from the East, which had a special charm for many a designer of arms.
The Cockatrice, perhaps, when correctly drawn, should have the legs and feet of a cock-the Wyvern those of an eagle, but these details are seldom observed in representation.



Argent, a cockatrice azure, combed, beaked, wattled, and membered gules--DANCYE, Lancaster.

Argent, a cockatrice volant sable, crested, membered, and beaked--LANGLEY, Lancaster.

Or, a cockatrice, the tail nowed with a serpent's head sable, comb, wattles, and head gules; in the beak a trefoil vert--ASHENHURST, Derby.

Argent, a wyvern, wings endorsed, gules--DRAKE, of Ashe, Devon. (Bart., 1660.)

Argent, on a bend sable, between two lions rampant of the last, a wyvern volant, in bend of the field, langued gules--RUDINGS.

Argent, a wyvern passant azure--DAVET.

Argent, a wyvern with wings endorsed sable--TILLLEY, Devon.

Gules, a wyvern volant or--SOUTHWELL.

Gules, a wyvern or, on a chief azure three mullets or--Priory of S.Peter, HEREFORD, and also of HAVERFORDWEST.

Vert, a wyvern-dragon passant volant argent swallowing a child proper--WARRINGEHAM[from Harl. MS. 1404].

Sire Johan de FOLEBOURNE de or, a un chevron de sable e ij wyvres de sable--Roll, temp. ED. II.

Sir Edmon de MAULEE, de or, a une bende de sable: en la bende iij wyvres de argent--Ibid.

Or, a wivern between three fleur-de-lys vert--HINCHLIFFE, Bp. of Peterborough, 1769-94.

Gules, a wivern or, on a chief azure, three mullets pierced of the second--HEREFORD Priory, Pembrokeshire.

[The figure of the Wyvern here given in the margin is from one of the supporters of the arms of KENNEDY, co. Ayr.]

Cockatrices also occur in the arms of the families of DRAKE; BRENT, Co. Kent; BOOTH; BOGAN, Devon; BROWN, Norfolk; JONES; Henry SEYNES, Newark.

Wyverns are borne by TAME, Oxford; DRAPER, Oxford, 1613; BRENT, Oxford, 1613; MACBEATH, Scotland; DE WINTON, Gloucester.
Similar to the Cockatrice is the Basilisk, and it is usually held to be synonymous with it, but it is said in books of heraldry to have an additional head, like that of a dragon, at the end of the tail, and hence the Basilisk is sometimes termed an Amphisian Cockatrice. Similar also is the Amphistere, which is found frequently in French coats of arms, and is described as a winged serpent with dragons' feet, of which the tail ends in another serpent, or in more than one serpent; in the latter case it is said to be gringolé of so many serpents. The Hydra(fr. hydre) also occurs in heraldic designs, but though compared with the dragon it is more like the wyvern, having only two legs, even if it has those. The peculiarity is that it partakes somewhat of its mythological prototype, inasmuch as it has seven heads-though in one case the blazoning especially reduces the number to five.
Argent, a cockatrice with wings endorsed and tail nowed; at the end thereof a dragon's head all sable--LANGLEY, Dalton, Yorkshire.

Argent, a basilisk, wings endorsed, tail nowed sable--LANGLEY, Hathorpe Hall, Yorkshire.

D'azure, a l'amphistere d'or--DU BOURG SAINTE-CROIX, Bresse.

Paly of six or and azure, on a chief gules, three five-headed hydras as the first--GRANDPRé.

A hydra, wings endorsed, vert, scaled or--Crest of BARRET of Avely.
Please Help!
DrawShield is a Free service supported by its users.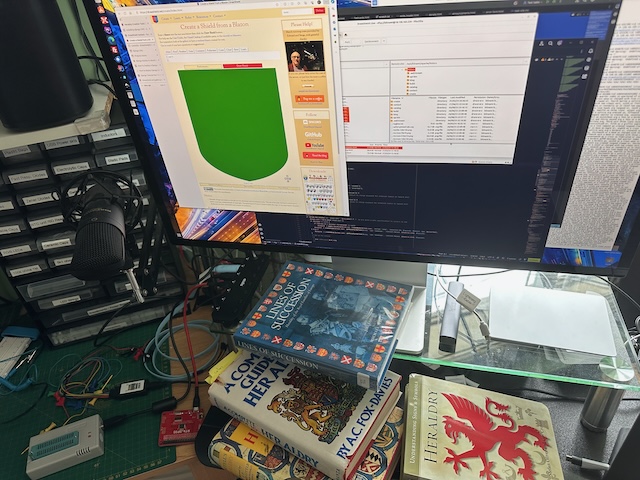 If you can, please help cover the cost of the server, or just buy the team a coffee to say thanks! All donations are greatly appreciated.
Buy me a coffee
Test Me