Sword
Sword
Sword, (fr. epée), or arming sword: the usual form is a long straight blade, with a cross handle, and it is borne is a variety of ways, so that its position should be distinctly stated. The sword in the insignia of the city of London is sometimes called the sword of S.Paul, that apostle being patron of the city. The blade may be waved, embrued, &c. A sword is often represented piercing an animal or a human heart.
The hilt and pomel are also frequently named, as they are often of a different tincture from the sword itself. A sword proper is argent with hilt and pomel or.

Or, a sword in bend sable--SMALLBROOK, co. Worcester.

Sable, a sword erect in pale argent, hilt and pomel or--DYMOCK.

Azure, three swords, one in pale, point uppermost, surmounted by the other two in saltire, points downward, argent--NORTON.

Gules, a man's head couped at the shoulders between three swords proper headed or--SWORD.

Gules, a lion rampant argent between two swords, pomels downwards, points to the dexter and sinister chief proper--DEMSEY.

Gules, three pairs of swords in saltire argent, hilts and pomels or, viz. two pairs in chief and one pair in base--CUTLERS' COMPANY, [Incorporated 1417; arms granted 1476].

Argent, a sword in pale azure, hilted or; a chief gules--MENZIES, Culdairs.

Gules, on a chief argent two swords in saltire azure--BRADDYLL.

Argent, a two-handed swords in pale azure--SPALDING, Scotland.

Gules, a two-handed sword bendwise between two mullets or--SYMONSTON, Symonston.

Azure, a waved sword erect in pale proper, hilt and pomel or, between two mullets in fesse pierced argent--DICK.

Argent, a sword erect, point upwards; from the blade issuing drops of blood--O'DAVOREN, Ireland.

Gules, a fesse between three pheons argent on a canton or, a dexter gauntlet sable holding a broken sword erect of the second embrued in blood--EGERTON, Dublin.

Azure, two swords in saltire, blades argent, hilts and pomels or, pierced through a human heart proper; in chief a cinquefoil azure--PARSONS.

Or, three sword points proper, two and one--PROCTOR.
There are different kinds of swords mentioned in blazon, e.g. the arming sword, the sword of state, the Irish sword, the Highlander's Claymore, &c.
    "The Highlander, whose red claymore                                         
    The battle turned on Maiden's shore."                                       
      Scott's Marmion, Introd. to Canto VI.                                     

Others also will be found already given under
Sabre
, q.v.
Sable, an arming sword, the point in chief argent--MARMION.

A sword of state palewise, point downwards, surmounted of two lions passant; impaling quarterly, first and fourth chequy argent and sable, second and third gules, two barrows[sic but Qy.] or--Seal and Arms of the Corporation of DROITWICH, co. Worcester.

Argent, issuing from the sinister side of the shield a cubit dexter arm vested gules, cuffed azure, the hand proper grasping an old Irish sword, the blade entwined with a serpent proper--O'DONOVAN, Ireland.

Azure, a cat rampant argent, on a chief the standard of St.Andrew and a claymore, point downwards, in saltire proper--SMITH, London.
The sword may be sheathed, i.e. in its scabbard, the termination of which is called the crampet, chape, or boteroll, (fr. bouterol); and this termination is sometimes found as a separate charge. [The habick of the CLOTH-WORKERS' Company is found wrongly blazoned as a crampet.]

Argent, two swords in their scabbards in saltire sable, hilts and chapes or--GELLIBRAND, co. Kent, temp. HEN. VIII. [N.B. Brand is a word for sword.]

Sable, a sword in pale, point downwards, scabbard and belt argent, on the sinister side a Katherine wheel argent--GARAT GROCH.

A crampet or, the inside per pale azure and gules, charged with the letter r of the first--Badge of Earl DE LA WARR.

Azure, three bouterolls or--BECHETON[or Becketon].

Sable, three sword chapes or--ADDERTON, co. York.
Please Help!
DrawShield is a Free service supported by its users.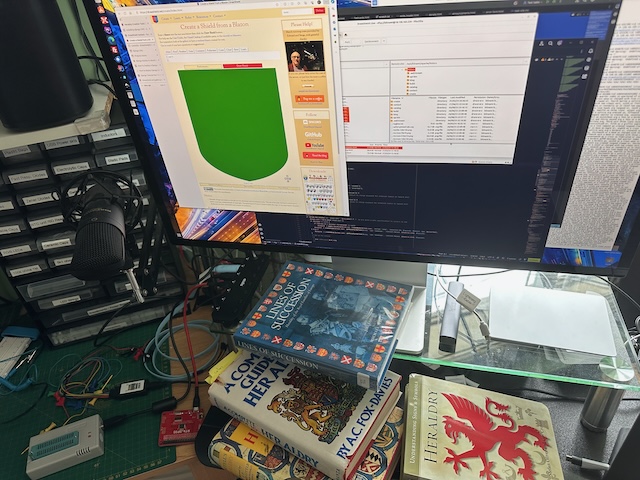 If you can, please help cover the cost of the server, or just buy the team a coffee to say thanks! All donations are greatly appreciated.
Buy me a coffee
Test Me