Water
Water
Water: this occurs indirectly in many ways. It is conventionally represented by barry wavy argent and azure, and thus the roundle so tinctured is technically called a fountain, and is supposed to represent the water lying at the bottom of the well or spring.
The base of the shield is often made to represent the ocean(q.v.), and sometimes with ships sailing upon it. A river(fr. rivière) also is often introduced into coats of arms, and this especially in connection with bridges. An example of a ford will be found noticed under Bull, Camel &c., and possibly a pond is intended in the example given below, as borne by OHENLOYNE, though the tincture being vert it is doubtful. The loch is mentioned in one or two coats of arms(see those of LITHGOW under Otter). The singular device of Water-bubbles is also blazoned and figured in one Heraldic work as belonging to the name of BUBBLEWARD, but it is a question whether it occurs in actual Heraldry, or whether it is in invention of some fanciful writer.

Argent, three demi-lions gules issuant out of water proper--MULLIKEN, Scotland.

Azure, in base water vert, thereon a bridge of three arches argent; on the centre a turret of the last flagged gules--VINICOMBE.

Argent, a field and river proper, on the field a buck gules drinking in the river--BARNEVELT.

Argent, a cross moline azure placed in a loch proper[?], and in chief two mullets of the second--MILLER, Gourlebank, Scotland.

D'azur, à la rivière d'argent posée en fasce et chargée d'un bateau de même--BOUDET, Auvergne.

Per fesse gules and water proper, a fesse arched with three towers or, all masoned sable[otherwise, Gules, on a fesse arched three towers or, all masoned sable]; in chief a fleur-de-lis between two roses of the second argent seeded gold; in base three ships with one mast and yard, each sable, two and one[otherwise, in base a river proper, thereon three vessels each with one mast and yardarm of the third]--Town of CAMBRIDGE.

Or, in a pond(?) vert[otherwise, however, Or, on ground vert] a boar passant sable--OHENLOYNE[known as Hibernicus SYLVESTRIS].

A tree, from the root whereof runs a spring of water; on the sinister thereof stands a stork picking up a fish, on the dexter is another bird resembling a Cornish chough--City of WELLS, co. Somerset[see also another under Wells].

Per fesse, each piece argent; within its base barry wavy argent and azure three ducks swimming, their bills in the water or, waves of the second; over all on a fesse engrailed gules as many roses silver--REVERS. [From Glover's Ordinary.]

Azure, three water-bubbles proper--AIRE.

Argent, two bubbles and a third rising out of water in base--BUBBLEWARD. [From Berry's Encyclopæ"dia.]
Please Help!
DrawShield is a Free service supported by its users.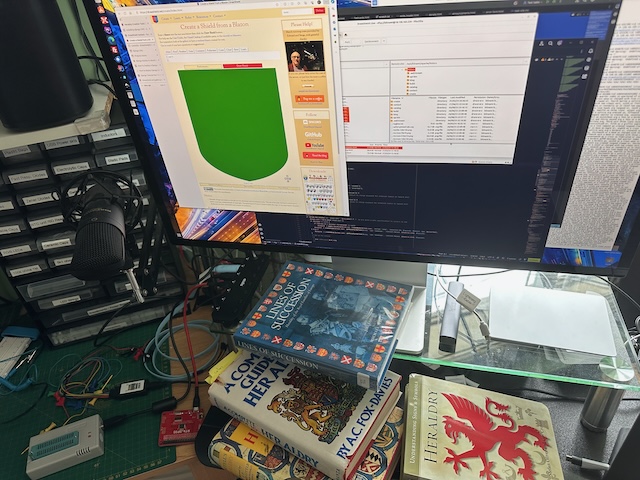 If you can, please help cover the cost of the server, or just buy the team a coffee to say thanks! All donations are greatly appreciated.
Buy me a coffee
Test Me