Quarterly
Quarterly



Quarterly, (fr. ecartelé): when a coat of arms is divided into four parts, which is usually party per cross(rarely per saltire). The term quarterly is found in ancient rolls, and the lines of partition are subject to many of the variations to which ordinaries are subject.
The divisions are numbered 1, 2, 3, 4, beginning at the dexter chief, and most frequently Nos. 1 and 4 are alike, as also Nos. 2 and 3; and when the quarter is charged its number must be always specified.
Le Conte de MANDEVILE, quartele d'or e de goulez--Roll, temp. HEN. III.

John de BERNERS, esquartile d'or et de vert ung labell de goules--Ibid.

Sire Fouk FIZ WARIN, quartele de argente de goules endente--Roll, temp. ED. II.

Monsire Foulk FITZ WARREN, quarterly endente per fes d'argent et gules--Roll, temp. ED. II.

Monsire le Conestable, Seigneur de FLAMBURGH, quarterly, gules et verre; une baston d'argent parmy le gules--Ibid.

Quarterly, per fesse indented azure and argent, in first quarter a lion passant gardant or--Herbert CROFT, Bishop of Hereford, 1662-91.

Quarterly, per fesse dancetté, or and azure--PEROT, Beds.

Quarterly, per fesse indented, argent and azure a bend gules--BLOMFIELD, Bp. of Chester, 1824; of London, 1828-56.

Quarterly, per fesse dancetté, gules and or--BROMLEY, co. Salop.

Quarterly, per pale dovetailed, gules and or--BROMLEY, co. Cambridge.

Quarterly, embattled argent and sable--CAYLE, Cornwall.

Quarterly, wavy or and sable--SANDON, co. Lancaster.

Quarterly, per fesse wavy or and gules, a bend counterchanged--AUNCEY.

Quarterly, argent and sable; a pale and saltire ermine and ermines counterchanged--STUTVILE.




When there is a bordure the quarters should be within such bordure, but a quarter may contain a bordure. See under Bordure, examples of HUGH DE VERE and STAFFORD respectively.
Quarterly, or and gules, on a bordure engrailed sable eight escallops argent--HEVENINGHAM, Suffolk.

Quarterly; first and fourth gules, three cinquefoils, in fesse point a mullet argent; second gules, three cinquefoils argent, in fesse point a heart or; third gules, within a border argent, three doves close of the second--Walter Ker HAMILTON, Bp. of Salisbury, 1854.

Quarterly, azure and argent, a cross or. In first and fourth quarters five mullets of the second; in second and third an eagle displayed sable.--arms ascribed to Hubert WALTER, Abp. of Canterbury, 1193-1205.

Quarterly, ermine and azure, over all a cross or--OSBORNE, Earl of Danby, 1674; [also Duke of Leeds, 1784].


Ordinaries are sometimes made quarterly, e.g. a chief is found so, and in those cases suitable charges seem to be chosen for the compressed quarters. The fesse and chevron are rarely found quarterly: the Cross is more frequently so; and is some cases the four quarters of the shield may be of different tinctures as well, and the Cross is then blazoned counterchanged, (sometimes, but erroneously, counterquartered). See Cross, §5.
Quarterly; first and fourth argent, a canton sable; second and third or, two bars azure, a chief quarterly of the last charged with two fleurs-de-lys or, and gules a lion of England--Charles Manners SUTTON, Bp. of Norwich, 1805; Abp. of Canterbury, 1828-48.

Barry nebulee of six argent and azure; a chief quarterly gules and or; on the first and fourth quarters a lion passant[gardant] of the fourth; on the second and third two roses gules barbed vert--Company of MERCHANT ADVENTURERS, London.

Argent, a fesse quarterly sable and or--MACREERY, Dumpender, Scotland.

Argent, a fesse quarterly azure and or--MECREADIE, Pearston.

Vert, a chevron quarterly or and gules between three garbs gold; a balance or suspended by a hand proper issuing from a chief wavy argent and azure, charged with an anchor proper, fesswise, the stock to the sinister--Company of BROWN-BAKERS, London, Incorporated 1612.

Azure, a chevron quarterly gules and argent between three garbes or; on a chief argent a S.Julian's Cross sable--Company of INNHOLDERS, London[granted 1438, altered 1634].

Quarterly, argent and azure, a cross engrailed counterchanged--HAYDON, Oxley, co. Hertford.

Quarterly, sable and argent, a cross counterchanged[awkwardly blazoned counterquartered of the field]--LORRAYNE, Bart., 1664.

The term quarterly is also sometimes used in connection with the partition of the shield per saltire(fr. ecartelé en sautoir); but it is not needed, per saltire being sufficient.
Per saltire, argent and azure--BANE; also PYPARD.

Per saltire, ermine and erminois, on a chief gules a martlet between two roses or--GOLDRIND, Baronetcy, 1841.

Per saltire, argent and vert a pale counterchanged--STABLES.

Quarterly quartered, when applied to a saltire means parted per cross and saltire: but the arms might, perhaps, with equal propriety be blazoned as saltire gyronny of eight. Another blazon is given of this coat in the arms of Bp. of MONTAGUE after the Sees of BATH and WELLS were united, viz., per saltire quartered. See Saltire.
Azure, a saltire quarterly quartered or and argent[i.q. gyronny of eight] or and azure--See of WELLS[also united Sees of BATH AND WELLS].
Please Help!
DrawShield is a Free service supported by its users.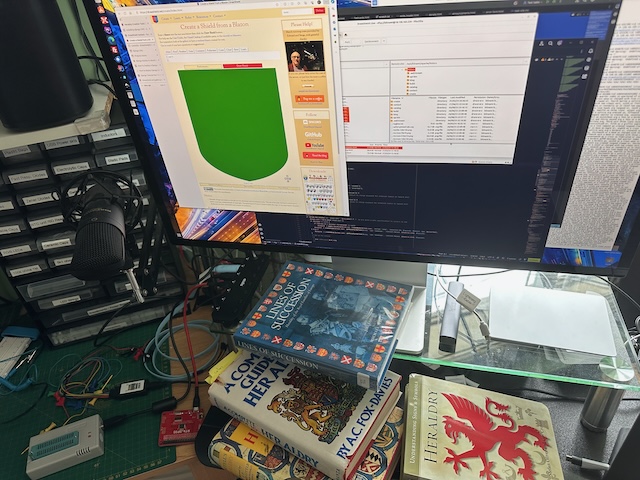 If you can, please help cover the cost of the server, or just buy the team a coffee to say thanks!
Buy me a coffee
Test Me