Glossary N
Nacelle. Petite barque qui, dans les armoiries polonaises, a une forme particulière. Le fond est plat et la proue et la poupe se relèvent en pointe aigue (VI, 9e rang, 23.)
[no direct equivalent]: Small boat which, in Polish arms, has a particular form. The bottom is flat and the prow and stern are raised in a point.
Nageant : se dit des poissons posés en sens horizontal.
Nageant: said of fish placed horizontally.
Naissant: se dit des animaux qui ne montrent que la moitié supérieure de leur corps (V, 12.)
Naissant: said of animals which are showing only the upper part of their bodies.
Naturel (Au). C'est la couleur naturelle des animaux et des objets inanimés.
Proper: This is the natural colour of animals and inanimate objects.
Navire. On en voit de tant de genres dans les armoiries, que la forme, le nombre des mâts et des voiles, ou même l'absence de voiles doivent être indiqués en chaque cas particulier (v. Vaisseau.)
Ship: We often see this type in arms, where the form, the number of masts and sails, or the absence of sails must be indicated in each particular case.
Nébulé : se dit de pièces ondoyantes en forme de nuées (I, 9, 26.)
Nebuly: said of ordinaries undulating in the form of clouds.
Nénuphar (Feuilles de). Ce sont les feuilles d'une plante aquatique. Il est à présumer qu'en plusieurs cas l'ignorance des dessinateurs en a fait des coeurs, des bouterolles, etc. (VI, 4e rang, 11)
Nenuphar (Leaves of): These are the leaves of an aquatic plant. It is presumed that in many cases the ignorance of the artists caused them to shown as hearts, bouterolles etc.
Nervé: se dit des nerfs d'une feuille d'arbre lorsqu'ils sont d'un émail différent.
[veined]: said of the veins of a leaf of a tree which are of a different tincture. [TODO image links in this file.]
Noeuds. Les grandes familles anglaises se servaient autrefois de signes distinctifs, appelés badges, dont ils marquèrent leurs propriétés et qu'ils firent broder sur l'habit de leurs gens. Entre ces signes il y en avait qui étaient formés de cordes entrelacées d'une manière déterminée et auxquels on attachait le nom de la famille qui en lit usage. Ainsi on a le noeud de Lacy (VI, 13e rang, 11) , de Bowen (12). de Bourchier (13), de Wake (14), de Stafford (15), de Dacre (16). Quelquefois ces noeuds sont entrés comme meubles dans les armoiries, ce qui nous oblige de les mentionner ainsi.
knots: The great English families sometimes used distinctive symbols, called Lacy knot (VI, 13e rang, 11) Bowen (12), Bourchier (13), Wake (14), Stafford (15), Dacre (16) knots. Sometimes these knots are between other charges in the arms, in which case they must be described also.
Nombril. On donne ce nom à un certain point dans l'écu (I, 2, G) , et à la pointe de fer qui était souvent appliquée sur le milieu d'un bouclier.
Nombril: We give this name to a certain point in the shield, and to the iron point which is often affixed to the middle of a bouclier [small, circular shield]
Noué: se dit: 1° de la queue du lion lorsqu'elle se montre avec des noeuds en forme de houppes, ternie peu usité aujourd'hui; — 2° de fasces qui s'élargissent vers le milieu, et qui sont simplement nouées (I, 62) ou doublement nouées (I, 63.)
Noueux : se dit des bâtons, chicots ou troncs d'arbre qui montrent des noeuds (II, 26.)
knotted: said of staffs, stumps or trunks of trees which have knots. (II, 26.)
Nourri: se dit des fleurs-de-lis dont le pied semble coupé. Comme synonyme on emploie le mot coupé, qui est plus clair et répond mieux à ce qu'on veut exprimer.
XXXXX: said of fleurs-de-lys in which the foot appears cut off. As a synonym we can use the word couped, which is more clear and represents better that which we can express.
Nuagé. Synonyme de Nébulé.
Nuée. Lorsque les nuées ne sont pas représentées par la ligne nébulée (IV, 70) , elles ont communément la forme naturelle.
Please Help!
DrawShield is a Free service supported by its users.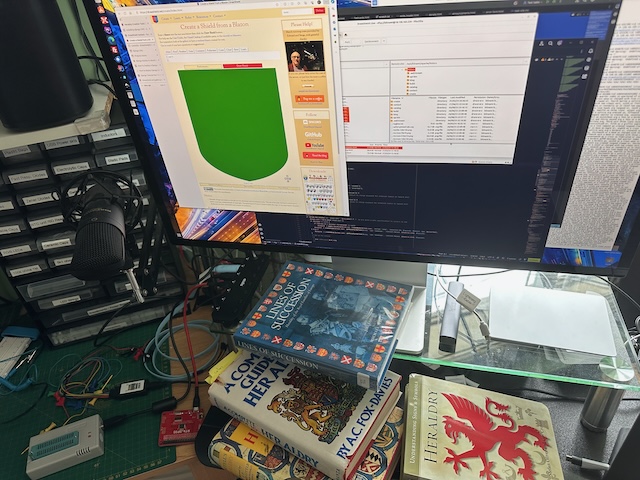 If you can, please help cover the cost of the server, or just buy the team a coffee to say thanks!
Buy me a coffee
Test Me